By Gagandeep Ghuman
Published: Aug. 11, 2012
District of Squamish has appointed Kimberley Armour as the transportation coordinator, a newly created position that reflects transit as a  council priority.
Armour has earlier worked as a waste program coordinator with SLRD and as a communications coordinator with the Squamish River Watershed Society.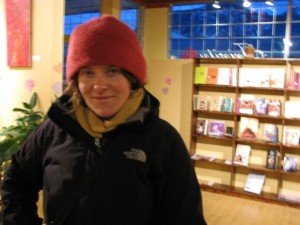 The district didn't want her to interview with the Reporter because she is a 'support' position.
CAO Corien Speaker answered questions about Armour's role with the district.
Armour has a lot to work on.
Speaker said Armour will promote alternative transportation programs.   
She will work closely with the communications manager to educate the public about transportation alternatives.
Armour will also work with BC Transit on route restructuring, scheduling improvements, fare restructure, HandyDART expansion and bus stop infrastructure upgrades.
She will also work with car share organizations such as Jack Bell, Modo and Auto-Coop to explore ride share possibilities.
Implementation of Safe Routes to School Program also falls under this new position.
District hopes Armour's work will lead to increased communications about transportation options, bus passes sold in more locations, increased communications about transportation options.
Speaker said Armour is working on a detailed work plan to achieve the above mentioned objectives.
"That work plan is almost finalized and will be approved by the manager in the near future," she said.
On Armour's appointment, Speaker said district was looking someone with relevant transportation, business administration, or communications experience.
The transportation coordinator position works within the engineering division to support specific transportation related work for the district. 
The position currently reports to Ms. Jenni Chancey, Director of Technical Services. 
Here are some long-term goals of the position.
1. Enhance commuter cycling
2. Promote safe routes to school
3. Discovery trail safety analysis
4. Implement transit option upgrades
5. Ensure sidewalks are safe – snow removal, etc.
6. Prepare 2013 transit upgrade report
7. Promote ridership on regular transit
8. Enhanced engagement and communications to the community from the district about transportation options