By Gagandeep Ghuman
Published: Sept. 25, 2012
Driving north on the Sea to Sky Highway, look closely at the Squamish Nation overpass.
You can't miss it: It's a Thunderbird.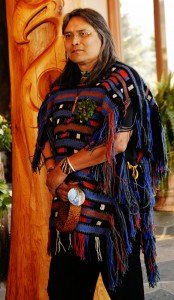 Thunderbird, a native symbol for power and strength, is heading towards Black Tusk.
Travelling South on the Highway, you will notice a Serpent, pointing towards the Shannon Falls and the Chief.
Walk on the bridge and you will notice the spears that represent the hereditary chiefs of Squamish Nation.
It's the latest creation of Squamish born artist Rick Harry (his ancestral name is Xwalacktun)), whose Coast Salish art dots our town and this region, opening a precious window into the immensely rich native culture and history.
Harry was recently inducted into the Order of British Columbia.
He was nominated by Helmut Manzl, who says he was impressed by the large and prolific body of art that Harry has created in his 32 years old career.
"This is a 10,000 years old culture, and Harry has helped us maintain a link with this culture," said Manzl.
Rick Harry's education in his past and native art started from his home in Squamish.
His earliest influence was his brother Gwen and his father, Ernie Harry. Informally, both men taught him to carve small totem poles and other mythic symbols.
When he was 12, he started wood carving at the totem hall, under the tutelage of Late Larry Joseph.
"I loved the way those wood carvings felt in my hand," Harry recalled in a recent interview.
"It's what really got me started."
Unable to find a job after high school, he joined Vancouver Art School, which later became Emily Carr University.
Now his son, James Harry, is at Emily Carr, keeping aboriginal art and his father's tradition alive.
Harry himself is a master carver and a lifelong creator of Coast Salish art.
If there's an underlying message of Harry's art, it's forming a connection with the world around us.
"We are connected to the earth, the land, the water, the trees. We are all one," he said, explaining his art.
With those deeply spiritual underpinnings, he works in a range of mediums: Wood, stone, metal, and jewelry.
Like the Thunderbird, his art is perched on the physical and mental landscape of this region.
It can be found outside the Howe Sound Secondary School, the local library, a welcome figure standing guard at the entrance to the Peak to Peak Gondola.
Sna7m Smanit (Spirit of the Mountain), a brick and glass structure adorns West Vancouver's Ambleside Park.
The structure measures 24 feet by 11 feet, and took him almost a year to complete.
"It's about bringing people together, it's about coming together as one community," he said.
Aboriginal art work, Harry believes is also becoming more popular.
"We have been invisible in our own country, but now more people are seeing it now," he said.
He was surprised to know he had won the award. It made him happy, but he didn't have to make a special effort.
"I'm always happy, and I try to make others happy too," he said, laughing.