By Natalie Gates
Published: June 14, 2014
As a doctor, Squamish local Angela Rivers usually works to help cancer patients in a lab coat and stethoscope. On June 14, she will do that on a bike.
Rivers is taking the Ride to Conquer Cancer challenge on June 14 because cancer has deeply affected both her professional and personal lives.
"I know how great it is when you find something that works," she said.
She will be biking in memory of her father and nephew who both lost their lives to cancer, as well as her mother in law who was diagnosed with breast cancer. She will be representing Team Lina.
Lina was diagnosed with a rare childhood cancer at the age of 6 weeks and is now three-and-a half years old and doing well in remission, Rivers said.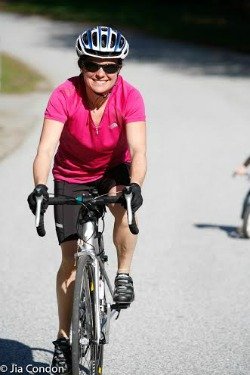 "She is the same age as my son so that really hit close to home," Rivers said.
"She's really spunky. She's an inspiration so hopefully I can tap into some of her energy."
Rivers' nephew lost the battle to cancer at age 13 in November of 2013 after a ten year battle, which deeply affected their family.
Her father, Lou Rivers, was an Anglican priest who was very active with helping cancer patients, as he did many hospital visits. He was diagnosed with an aggressive form of prostate cancer at the age of 63 and died in September of 2012. 
He was part of a drug trial that gave him two extra years of quality life, which inspires Rivers to continue to passionately support cancer research.  The medication that Lou Rivers used for the trial is now being used more widely because of its success. 
"He wanted us to fundraise for the BC Cancer Foundation when he died, instead of people giving flowers and such," Rivers said.
And so they have. 
Rivers has made a big commitment to training for the two day, 240 km fundraiser, though it was a slow start, she said with a laugh. Being her first time road biking long distance, her goal is to finish without injury and have as much fun as possible. 
Rivers and the other cancer conquerors will pedal from Cloverdale to Redmond, a suburb of Seattle. Rivers also fundraised by organizing Hike for a Cure, which took place at the base of the Chief on June 7. 
"It was a great success; there were thousands of people on the Chief that day. We made $700 on a lemonade stand!" Rivers said.
She has exceeded her fundraising goal by $1500 with a total now standing at $5500.
She would like to send out a huge thank you to her husband, children, mother, and Dave and Sandra at Corsa for their support.
You can still donate at conquercancer.ca by entering Angela Rivers as the participant.