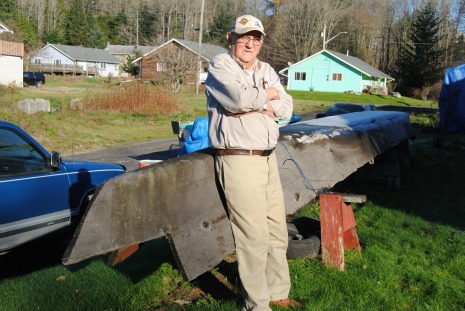 By Gagandeep Ghuman
Published: Dec 25, 2015
NOTHING says Canada more than a canoe and there is nothing about them that Billy Baker doesn't know of. The intricate knowledge of making a canoe comes swimmingly to him via generations of men who knew exactly which log would work best for what kind of canoe.
Billy was born and raised in Alert Bay, a village on Cormorant Island in the Regional District of Mount Waddington on Vancouver Island. But he was little when he came to Squamish in 1938 to live with his grandparents and he still recalls it was a canoe built by his dad that brought them to town. His grandpa, Billy Snow, was also an expert hand in building canoes and it was him that passed this knowledge down to Billy Baker. "Everyone had a canoe. We travelled long distances using a canoe. I was really little when I started watching my grandfather building canoes," Baker says.
There is an old traditional canoe outside Baker's home on the Stawamus Reserve and as he feels the cold wood, he remembers the canoe-building he took with his grandpa as they went looking for the best logs and barks. Baker remembers some of the best barks would be provided by the river after a flood when there would be a wide variety to choose from the pile of logs the floods would push on to the shore in Brackendale. Once they decided on the log, they would use their stump pullers and other traditional tools to pull it out. With no modern instruments or tools, Billy Snow would use his hands to measure the thickness and the depth of the log to figure out if it was worth the time to build a canoe. Once they decided on the best log, they would work on it the entire day, leave when it turned dark and then come back to work on it again the next day.
It could take as many as two weeks to build the canoe and Baker would patiently watch as his grandpa studied the log before splitting it up. But he never felt the pressure to study the whole process.
"Those guys never forced you to learn. You learned something because you were ready for it or you were hungry enough to learn it and that is something I've learned from my grandpa," he says.
That traditional knowledge, passed down to the next generation without pen and paper, is stored in meticulous details in Baker's mind. It's evident when he talks about the canoe parked outside his house. He knows which cedar would work best, and where the log has to be split so it turns the right way. He knows the knots on the wood are good but not if they fall on the centre of the split. He knows how long the canoe needs to be depending on if it's a war canoe, a race canoe, or a river canoe.  
Baker has passed this knowledge on to his sons and thinks it's really important that the next generation knows how to build a canoe, hunt game and fish.
Baker spent eight years in a residential school in North Vancouver but it couldn't erase the traditional knowledge he had imbibed from his grandpa although residential school system did much to decimate traditional First Nations knowledge about food, medicine, spiritual teachings, etc.  
Squamish Nation member Linda Williams says the residential schools system instilled fear in the minds of her parents' generation which led to the loss of many aspects of traditional knowledge, be it food, medicine, or spiritual teaching, song and dance, although it's all making a comeback.
The traditional knowledge of fishing and hunting is lost, Williams feels, although she adds it's also making a slow come back because of concerted effort of the community and the First Nation.   
Williams grew up with nine other siblings in the Cheekeye village and remembers the early morning fishing and hunting trips her father and brother undertook almost every day during the high season. They would go fishing, return with a big batch of fish and then go back again as the women in the house busied themselves with slicing the fish and hooking it up in the smoke house, something Williams and her sisters did as a daily routine but now realise it's a skill and tradition that many First Nations communities want to keep alive. Williams learned how to cut the fish in slices much like beef jerky, arrange it on racks at the smoke house and determine by the texture and the colour when the fish was ready to be brought back from the smokehouse to be consumed.
Along with fishing and hunting, Williams says something that is also on the way out is the sense of community on display when someone passed away. During the funeral, Williams recalls, her parents would bring them to the old Totem Hall and tell the girls to help the bereaved family in any way they could. Williams doesn't know the Squamish language but is now well versed with the songs and tried her best to pass that knowledge on to the younger generation.
Alongside fishing and farming, traditional knowledge of herbs and medicine has also faced extinction. Donna Billy remembers how her aunts, Ann Billy and Mable Lewis, would take her along as they went looking for medicinal plants in the area. Billy says she learned a lot from her aunts even though there was no structure to this training. Just by tagging along with them, she learned that stinging nettle is good for arthritis and that devil's club can be crushed and mixed with Vaseline and used to make a mask for dancing, and that Barbary bark can be used as a laxative.
"There was no specific training for that. It was something they would tell me if we were outside or in our backyards and that is how I learned about herbal and traditional native medicine," she says.
Growing up, Billy also learned basket weaving and making vests and moccasins using deer hides. She was taught how to bury the hide and wait until the dead meat would come off leaving a perfect hide to make clothes, drums and vests. 
All these folk knowledges are vanishing because our lifestyles have changed. These knowledges have little utility now. But they are not just skills or crafts, they hide in them a whole value system.