By Gagandeep Ghuman
Published: April 28, 2016
AS SOON as the eagles start soaring in the Squamish skies, Judith Knapp gets busy with the phone calls. Knapp is a member of the Squamish Environment Society. Every year she helps hundreds of tourists enjoy the majestic birds that visit our town. She often takes them to the dike followed by a presentation and a lunch at local restaurants. From school groups to seniors, Knapp has guided hundreds of tourists along the years as they enjoy the free show nature puts up for them at the eagle-view dike. 
While tourists are busy taking a closer look at the eagles on the dike, Knapp has to watch the road below. With a small parking lot chock-full of cars, tourists park their cars along the Government Road, unaware they could be ticketed for it. If she sees someone trying to park there, Judith says she has to run down the dike and ask them to not park there. It's one of the most popular tourist areas in town but it lacks a basic amenity such as a properly paved parking lot. The existing one is small, in poor shape and is full of water puddles on a rainy day, says Judith. "If it's raining, the puddles are deep and tourists have to park all the way down somewhere and then walk up. If you are handicapped or if you have mobility issues, it can be tough for them to get up," she says. 
Judith says the district has made some improvements such as a ramp for people on wheel chairs but much more needs to be done. A few benches have been added but there need to be more so tourists and locals can have lunch or a picnic rather than just a touch-and-go visit. 
The district has installed temporary washrooms on the dike but a properly built washroom is needed. "There is one washroom in the parking area that is not usable but now we have at least some portable toilets. People coming on buses the first thing they have to do is go to the washroom usually and when there is no facility, it makes it awkward and difficult," she says.  
As Squamish grows in popularity, Judith says there is need for new signs but old signs should also be spruced up as they can leave a poor impression on tourists. Eagle watching and other signs along the Mamquam dike, dog pound area and the Mashiter spawning channels are old, dated and need an urgent facelift.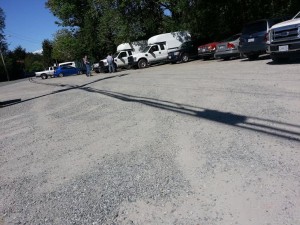 A facelift is also direly needed for the entrance to downtown Squamish as it can leave a lasting impression on a first-time visitor, says Les MacDonald, the owner of Copper Coil Grill. Les says he recently chatted up customers who spotted his restaurant on Trip Advisor but found the downtown lacking. They told him they were going to turn around as they entered downtown but kept going until they found the restaurants. A bland entrance to downtown Squamish followed by vacant lots, tourists often tell him, doesn't live up to their expectations. District of Squamish could borrow some idea from the city of Hope, he says, which has a wood-carving theme with totems spread all over the downtown which makes the place distinct and attractive. "We only have one chance to make that impression when people enter our town and our entrance has to be about what we want to say about ourselves and that we care about tourists," he says. He often gets tourists asking him about things to do in Squamish. Squamish Adventure Centre is a beautiful building but it needs to be advertised better along the highway so people know there is a one-stop shop for them to get all the information. 
 Gregory Fishcher of Bistro and Gelato Carina too finds himself playing the tourism information official. With no public washroom in downtown Squamish, he gets a lot of tourists who come to use the washroom at his shop and their questions range from the whereabouts of the new gondola to things to do in downtown Squamish. And with lack of proper signage on the highway, many end up at his restaurant looking for Starbucks. Having missed the turn to Hunter Place mall, they often end up driving along and "discover" a gelato place. "It's like all of a sudden they find themselves in downtown Squamish and I have to be the information official," he says, smiling.
Brandi Wilmot who owns the Watershed Grill in Brackendale says the lack of parking and a fading crosswalk at the eagle-viewing dike is a major cause for concern for her as a citizen and a business operator. "When eagle-watching season hits on a sunny day, traffic is lined all up and down the road because of lack of parking. It's a hazard," she says. She called up the district a few months ago to talk on behalf of Watershed and other restaurants on the lack of signage but was told the signs won't be allowed because it would clutter up the highway. "It's too bad because there is us, the Nest, Bean Brackendale, the Bike Shop, Spice Route and The Crab Apple and unless you hear about us in social media or via word of mouth from locals people passing through town just don't know we are here!" she says. "Even though a lot of people have smart phones, we shouldn't assume everyone has access to digital information when they are visiting town. We call ourselves the outdoor recreation capital so let's really make sure that our guests actually know how to access all those experiences our town has to offer. Is there enough signage and places where people can get maps and directions to our trail network for hiking and biking, our surrounding lakes and our local hotspots whether for recreation or dinner?" 
Brandi says the downtown also needs to be beautified and Nelson's Baker Street is a good example of how to do that. "It is inviting with benches and meeting spots, lots of flowers and music in the streets. The building frontage is all funky and inviting. There are old lamp posts and many shops and cafes to hang out in so there is a real community feel on the main downtown street," she says.
Graham Young says he has surprised customers come in all the time as they stumble upon his shop located in the Executive Suites Hotel and Resorts. As hundreds of thousands pass by the busy Highway 99, there is nothing around Garibaldi Way to suggest there may be tourist attractions and amenities available round the corner—unless the tourists have done an extensive research for Squamish and Whistler before they come to the region.  
"One of the things we struggle with here is signage. No one knows we are here even as we try our best to get the word out. We need proper signage of all the attractions that are available," says Graham, the owner of Canadian Outback Rafting. Hope, Chilliwack, and Golden have done a good job, he says, of making tourists aware of what is available in their communities on crucial exits. The strategically placed signs do more than just provide information—they pull people seeking adventure off the highway and into the town. Businesses aren't allowed signs unless approved by the province and this is where the district can play a proactive role, he says. "It's about visibility and since we have so many people driving up the highway, why are we not highlighting what we have in for tourism adventure in Squamish?" Graham says the district also needs to add more oomph to the Squamish Adventure Centre and turn it into a tourist hub with interactive kiosks for tourists and locals alike. As people walk along the adventure centre or idle around or wait for their turn to speak to visitor centre staff, they should have something better to do than just push pins on an overcrowded map. "Get some interactive showcases as you walk in so it can be a digital interactive kiosks or something they can take some photos of, something that defines what we are all about and where we are going. It could be about mountain biking or climbing or a rafting," he says. 
The owner of Sea to Sky Adventure company, Jeff Levine, says the district has done an "incredible job" creating the infrastructure they have at their disposal. Tourism is a function of private enterprise, because it's the private businesses that will reap all the profit. "I struggle with this, because so many tourist-related businesses say DOS doesn't do enough for them but if you wanted to be controlled by the municipal government, why don't you work for them?" he says. As for signs, Jeff says a majority of tourists have GPS navigation on their phones and don't need signs at every nook and corner.
Jeff says the district funds SORCA and soccer associations and other community events that benefit residents as much as the tourists who visit town. "I think things that will benefit the residents of Squamish such as trails, connection trails, playing fields, nice parks, nice boardwalks, easy multi-use trails, access to eagle watching, having a good rec centre are the same things that tourists too are coming for." 
When Jamie Martin, director at large for Squamish Windsport Society, goes to the Spit, he often gets a thumbs-up from people walking on the spit for one simple reason: He is driving slowly. There are too many excited young drivers zipping by people walking their dogs on the Spit despite a speed limit sign at the entrance. It would help if the district installed a traffic-calming sign, he says, along with signs that remind people they are in a sensitive wildlife reserve area.
Overcrowding on the Spit is another issue. The solution isn't in its expansion but in having another access to water which is underway at the Oceanfront Park. "They need to make sure they design the park properly with good input and not just throw a load of dirt out there and say, 'here you go guys, here's your beach'. It needs to be designed properly with consultation with the Squamish Windsport Society," he says. Jamie says it's important for the district and particularly the developer to realise that the park has to be done correctly and built to good standards. Until the park is developed, staff at the adventure centre and the district must ensure they send windsurfing enthusiasts to the spit and not downtown. "This is an extreme sport and it needs to be designed properly and with safety and that needs to be drilled into the developer. They need to go through the windsports society as we have engineers, and members and architects that can help," he says.
The district is a great partner of the windsport enthusiasts and it provides a lease to the society so that kiteboarders and windsurfers can enjoy their activities in a safe environment, says Chris Rollett, the district liaison of the Squamish Windsports Society. "As kiteboarding grows the district may have looked at ways to help manage increased volume. Windsports in Squamish have been growing every year and has put Squamish on the map as one of the premier kiteboarding and windsurfing locations in Canada. The hope is that windsports will become a major asset to the economy in Squamish with wind and water sport retail shops and schools," he says. Both, he says, share the same goal: To educate the users of the Spit that operate on the boundaries of a Wildlife Management Area and need to respect the sensitive nature of this zone. The current infrastructure is meeting the needs of Windsport participants but as the Oceanfront develops, it will be a huge benefit to windsport enthusiasts and the district.
If there is one thing the district would do to make things better for Glacier Air owner Colette Morin, it would be to amend its policy to allow for a long-term lease at the airport. The district doesn't allow a building permit as the airport falls under its Cheekeye Fan Terrain Hazard Policy. The policy document, created from a provincial study of landslide hazards, restricts development of permanent buildings in the area. Three years ago, the district did give some hope to airport tenants like Colette when it said it would engage a consultant to assess whether the Cheekeye Fan Policy could be amended or waived to facilitate long-term leases. The district also had a quid pro quo in mind: It would aim to provide long-term leases if the airport tenants would pitch in money for a water line. But nothing has happened so far and it's frustrating, says Morin. "All they have done is hide behind the Cheekeye fan excuse and it's been the same old situation and nothing has changes," she says. Lack of a long-term lease means Morin won't be able to do any upgrades to the building and she can't use her existing business as collateral to get a loan. She says she has a lot of money tied up in building and equipment but it's something she can't use for her financial security. She says with the Cheekeye development, there is talk of a protective berm but she isn't sure if tourism operators like her would enjoy any certainty as to their leases. A long-term lease, she says, would enable her to invest more in hiring more people and expand her tourism service.
Clint Goyette, who runs the Squamish Fly Fishing, says there needs to be better public washrooms at the Mamquam River dike where hundreds of anglers come every year to fish in the river. He takes clients to the local coffee shops where they want to use the washrooms, although he says the district does install temporary washrooms during the big salmon runs after he wrote to them. There will be thousands of anglers next year during the salmon runs and it's important they have access to basic amenities such as a washroom. "If we can have a number of washrooms during the Squamish music festival, then we can surely have a few more washrooms when thousands of anglers come to town," he says. Clint says the district could also do a better job of cleaning garbage and having refuse containers so tourists leave Squamish with a better impression of the town. There is a need for bear-proof garbage containers at more than one spot along the dike. Allan Chamberlain was one among those who took part in the Angler Awareness Day last year during the salmon run. A member of the Squamish Streamkeepers, Allan joined other members in giving information to anglers on fishing regulations, different species and the proper fishing equipment to be used. He says a proactive district can put up better signage making anglers aware of the fishing regulations while promoting angling as a tourism activity in town. "Many people feel there is unlimited fish population and many are not aware that it's catch-and-release area. We need signage around basic rules, better washrooms facilities and more information on access to the fishing areas around town," he says. Spawning channels around the Mamquam bridge can be a great resource for educators and tourists so old signs need to be spruced up, he adds.
While hiking the Chief or climbing at the Smoke Bluffs Park is a well-known tourist activity, Tourism Squamish can also market hikes and climbs other than those, says Ross Berg, the owner of the Altus Mountain Guide. Besides the Chief, there is a hike up the third peak from the Mamquam Rod, or hike up the Squaw but these hikes need to be marketed. "To build tourism, I think we also need to raise awareness of other hikes and climbs. If we send everyone to hike up the Chief, that is going to get boring and as packed as say the Grouse Grind," Ross says. The district along with the Squamish Access Society has done good work at the Smoke Bluffs Park for parking, washrooms and other amenities but many tourists, Ross says, still lack awareness about the whole spectrum of attractions Squamish has to offer. It's the reason why a lot of his clients will happily come for a day trip but don't extend their stay more than that. "Squamish is just so overpowered by Whistler and Vancouver, it's hard to convince them to turn their one-day trip into a three-day trip," he says. A better awareness of local restaurants and a new marketing plan that raises awareness of attractions other than the main ones will go a long way in making Squamish a true tourism destination.
Local mountain climbing guide, Colin Moorhead, says one challenge is the lack of available and suitable camping in the area, the Chief campground has too little capacity. Other campgrounds for a variety of reasons (mostly location) aren't suited for climbers. In high season there simply isn't enough camping sites available anywhere in Squamish. Meanwhile "bandit camping" is thriving along the Mamquam FSR, this is a problem on many levels but especially because of human waste and the proximity to the river and Vallycliffe residents. This area, if possible, should be considered as a District run, basic amenity, for fee camping area, he says.
"Basic amenities would be drive in sites, modern outhouses, picnic table and food storage bins, garbage and recycling, and fire pits. Yes this area would need to be managed/supervised and would cost the District. This would be a great asset to the town that likes to promote itself as an outdoor recreation epicenter," he says.
Adrian Blachut, the owner of Zephyr Café, says a renewed focus on beautification and a parking strategy are two of the key issues district needs to address. A vast number of tourists, he says, come from Vancouver and Lower Mainland on their cars to make a day trip out of Squamish and they must get proper access to parking for them to keep coming back, he says. He lauds the district for being flexible on outdoor patios and hopes the local government would encourage through zoning more cool and funky places and more restaurants that will bring people to downtown Squamish. Jessamy Freese, owner of Sunwolf Lodge and Fergie's Café, says it would be great if the district and BC Transit provide more services to Squamish Valley. The lodge gets many tourists who travel by bus and then either take a cab or are picked up by the lodge owners. Jessamy says the district should also focus on improving signage for downtown entrance. The lodge often gets visitors, even repeat visitors, who have never been to downtown Squamish. As we become more of a tourist destination, she says, we can take a cue from Whistler and invest more in a trail network which can make all the main tourist attractions accessible by bike or on foot. "We also need to focus on how we can attract more visitors who are the entry-level outdoor enthusiasts, whether it's mountain biking or climbing," she says. Tourism Squamish, she says, does a wonderful job of promoting Squamish even though it has limited resources compared to Whistler. But a marketing campaign attuned to the first-time or the beginner outdoor enthusiasts can bring more people to explore the town.