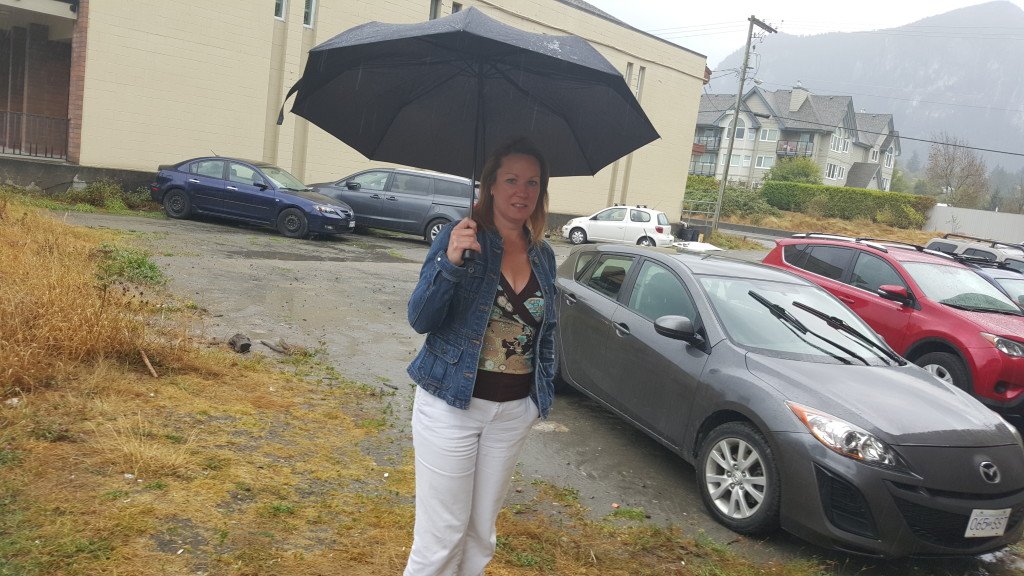 By GAGANDEEP GHUMAN
Published: Oct 16, 2016
IF THEY were to go by what the District of Squamish tells them, then Katherine Boake and her colleagues at the Century 21 office on Cleveland Ave would have to park their cars on Loggers Lane or beyond the downtown core and then walk back to work.   It's a seemingly small ask but Boake says the district needs to reconsider the rule, which they were informed of recently by the district in an official letter. For fear of being ticketed, Boake and her colleagues park their cars in a vacant lot next to the office but it would soon be developed. When that happens, they would have to park their cars a few blocks away, which doesn't seem much but can be a problem for some, says Dana Conn, who also works in the Century 21 office.
"We have a colleague who has arthritis and there are often times when you have to carry a lot of stuff to the office. The alternatives the district is suggesting are too two far away and they are often taken. Parking far away from the office and walking back in the cold and rain doesn't seem too convenience to me when we have parked close to our office all this time," she says.  
The district should have consulted downtown business owners before implementing new parking regulations that restrict parking in the heart of the downtown to two hours, says Katharine Boake, strata manager at Century 21 in downtown Squamish.  District has recently marked over 250 parking spots along Cleveland and Second Avenues for two-hour parking. The cross streets between Pemberton Avenue and Victoria Street now also fall under the 2-hour rule to accommodate visitors, customers and clients of downtown businesses. The two-hour parking has been in effect in downtown Squamish for several years but hasn't been enforced. That will change soon. 
"We are still in the education phase and are thus seeking voluntary compliance. Enforcement is expected to begin this fall," says District of Squamish spokesperson Rachel Boguski. 
It's what should have happened long time ago, according to Gregory Fischer, the owner of Newport Gelato in downtown Squamish. Having a strictly enforced two-hour restriction would be good for business as it would enable more customers to find spots in the core. With lack of any regulation, people can easily spend more than two hours on the town's main drag, which prevents more customers from finding parking spots in the downtown core. "The district needs to start enforcing the two-hour regulation and then eventually install parking metres which will help them generate some revenue for the district," he said.
His views are echoed by Moez Mohammad of Sunflower Bakery, who says a two-hour parking limit can help grow downtown businesses as more people find a spot closer to local shops. The two-hour parking limitation in downtown, however, presents its own challenges for Squamish artist Tim Cyr when he sets up his booth at the Squamish Farmers Market. As he couldn't leave his booth, he had to ask one of his friends to move his car every two hours. What makes it all worse is the fact he has never seen bylaw officers enforcing the two-hour restriction the district has so publicly stated in the past few months. Although he has been able to find parking on the new Loggers Lane parking lot recently created by the district, he says it would be best if the district only enforced the two-hour parking rule during the week.
"You have the farmers market in downtown Squamish and there is always some sort of event happening all the time here so I think they should exempt the 2-hour parking limit on the weekends," he said. 
Bianca Peters of Downtown Squamish Business Improvement Association says the district has created two additional all-day employees parking lots along Loggers Lane so customers' downtown can have a better shopping experience.  "While we appreciate the efforts of the district, the DSBIA would like to see more attention paid to better parking options and will be requesting effective transit systems be implemented in the immediate future. We are also concerned with the issuing of development parking variances which has been, and will continue to be, the direct cause of increased parking problems downtown," she said.  
Boake, meanwhile, says the district should show some leniency and perhaps create some special parking permits for office staff.  "We'd have to park blocks away and that is not something we'd enjoy in the winters. And I'd love to take public transit but that isn't so regular. We need to do some long-term planning and have a parkade," she said. 
She also called upon the district to consider further research and community input on the parking issue in downtown Squamish.  The district gave many parking variances in the past to encourage commercial development downtown but that led to a parking problem in the downtown core. A parkade was part of the plan but has yet to be implemented.