By Gagandeep Ghuman
Published: Sept 14, 2017
Slow and Steady is winning the day for the proposed Turtle trail.
The Turtle trail is the brainchild of former councilor and environmentalist Meg Fellows, who has been working hard on making the trail popular. Fellows says the Turtle Trail Map/Brochure are now available at the  Corsa, Tantalus, Republic bike shops.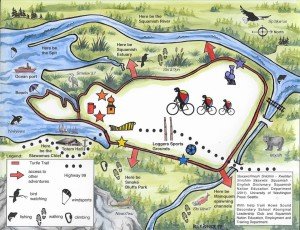 The maps are also available at the Turtle trail landmark attractions, which are the  Adventure Center, Howe Sound Inn and Brewing Company, Sikh Temple, Westcoast Railway Heritage Park, and Brennan Park Recreation Centre.
They are also be available at the District of Squamish Town Hall and Public Library, Squamish Nation Totem Hall.
"The purpose of the Turtle Trail Map/Brochure is to provide and receive information regarding the Squamish Laughing Turtle Trail.  Both the trail and the brochure are works in progress. There are significant issues still to be worked through: property ownership, accessibility standards, development timelines, and associated costs," she said.  
The Turtle Trail Map/Brochure is sponsored by the Squamish Trails Society.  Funding was provided by the Squamish Community Foundation.  The map/brochure will be available on the Squamish Trails Society web site www.squamishtrails.ca .  Feedback is welcome either through the STS website or via email: turtletrail@telus.net 
 Similar to Vancouver's Stanley park sea wall, the proposed Talking Turtle Trail is about 10 kilometers long, a circle route, flat, and beautiful, and will connect the community's key assets.
"This is a chance for us to knit together the past and present stories of community." Meg Fellowes
You could walk or bike from the West Coast Railway Heritage Park to the estuary to the Oceanfront, then make your way back along the blind channel and Loggers Lane to the Park.
"It invites us to get out of our cars and be thankful for all that Squamish offers," she said.