By Gagandeep Ghuman
Published: Sept.5, 2014
Looking to sell your established business in Squamish? There are more customers out there than you may know. Foreign investors are looking to buy businesses, a move that expedite their citizenship application under a provincial nominee program.
In the last few months, Mitchell Chang has received several phone calls from Vancouver realtors and almost all have the pattern, greeting followed by a question.
"Do you want to sell your business?"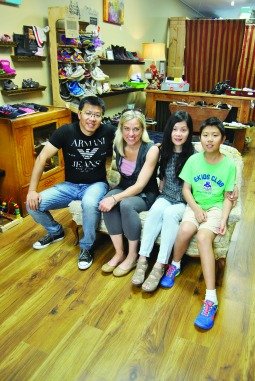 For Chang, the owner of Mountain Burger House on Cleveland Ave, the timing is impeccable. He had been meaning to sell his business, but the price was never tempting enough for him to seriously consider the offer.
But this time is different. The realtors calling him were front men for immigrant hopefuls in China and other countries, hoping to buy a business under the Provincial Nominee Program (PNP).
The PNP program is the business-class version of immigration to Canada. As point-based and family immigration queues grow longer, those willing to invest money in Canada can apply to purchase or expand a business. In return, they are able to fast track their Canadian residency.
The PNP program has gained more currency ever since the federal government scrapped the immigrant investor program. To stimulate economic development outside bigger centres, the PNP program also encourages prospective immigrants to apply outside Vancouver and Abbotsford areas.
The prospective immigrant must invest at least $200,000 in a business and commit to creating at least one job for a Canadian citizen.
"It's an open for business card Squamish has been waiting to play for a long time." Marnie Lett.
For local business owners like Chang, the program offers a chance to retire or create another business in the community. He's now considering an offer from a Chinese family to buy his Cleveland Ave. restaurant.
"It's an open for business card Squamish has been waiting to play for a long time," says Marnie Lett, the owner of Fetish Shoes.
Marnie recently sold her shoe store to a family from China, but has been helping them in the transition. The new owner has a background in shoe retail in China and plans to expand this operation, she added.
"It's been thrilling to watch this family come to Squamish," she says.
For Qing Tian, the new owners, small town life in Squamish stands in stark contrast to the frenzied life he was used to living in Guangzhou.
Before migrating to Canada under the PNP program, Tian lived in Guangzhou, the capital and the largest city of Guangdong province. After a stint as a video editor in public broadcasting, he started working with Top Score Fashion, a footwear company.
Tian said he wanted to migrate to Canada for its clean environment, stable economy, and better future for May Huang and Sunshine, his wife and son.
"Plus, the people in Canada are really nice," Tian said.
Tian may have left the pollution and a frenetic life behind, but not the willingness to work hard and prosper in a new country.
 He is already planning to renovate and expand the shop, while exploring other connections for shoes in Europe and China.
"I want to combine online sales with retail and make this a better experience for the customers," he says.
The program is win-win for both the business owner and the prospective immigrant, says local realtor Shaun Greenway.
There is immense interest in the program: Greenway says he too 46 calls one day from lawyers and realtors looking to buy a business in Squamish. Wealthy investors buying into Squamish will create many spinoffs for the community, he says.
"This will create more economic and cultural diversity in our town," he says.
In 2013, the economic development office in Squamish recorded 35 PNP enquiries.