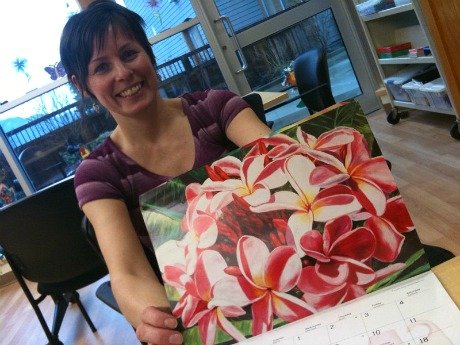 By Gagandeep Ghuman
Published:Feb. 4, 2012.
Do you have old calendars and fashion catalogues lying around at your home?
Give them to Cindy den Dekker (hthactivites@vch.ca). The images on the calendars can bring back memories and smiles for Hilltop House residents.
Dekker has seen the photos and visual clues work like a charm.
Recently, Dekker, the activities coordinator at Hospital Hill, was in a resident's room, and noticed something peculia.
A cute little puppy another staff member  held in her hands seemed to have awakened a memory in the resident. 
"She almost leapt out of her bed to hold the puppy," Dekker recalled.
Dekker later found out from that the resident had been a dog-trainer in her youth. The best years of her life were spent training dogs. The puppy rekindled the memory of those years.
Dekker now has a picture book of dogs. She also asked the resident's family to bring awards and citations she got for training dogs.
The resident's room is decked with those awards and pictures of cute puppies, something that makes this resident smile as she prepares for the final journey.
For Dekker, that is mission accompalished.
"If we can hold them there in that moment, make them happy for a few seconds…You know, that's what I'm after," Dekker says.
As age eats away at memories, Hilltop House residents who suffer from dementia can shrink into a silent cocoon.
Dekker uses images and visual clues to stirs those memories for smiles, however feeble they may be.
A photo is the best tool to do that, she says.
It makes them smile, and remember the fulfilling life they had.
"It validates the life they had," Dekker says.
Now, Dekker is hoping the community will come forward and help her out in rekindling those memories.
She is looking for old calendars and fashion catalogues with a motley collection of photos. She is also looking for old photos of Squamish, for those who spent their life in Squamish.
At her work station, she whips out a calendar, which is full of pictures of red roses and gardens in full bloom.
"We would show this to someone who lived in a home with a big garden," she says.
There are 73 residents in Hilltop House, and she would like to make "reminiscence" photo books for at least those who have are suffering from dementia.
She had a few of those but they were worn out. Now, Dekker has started collecting calendars again.
Recently, she went in an elderly resident's room to give him peaches for breakfast.
He kept looking at them.
She later found out he had a dog named peaches.
Now, she sees occasionally sees him smile at peaches.
"I put a picture of peaches in his room," she says.
To donate your calendars, contact Dekker at hthactivities@vch.ca