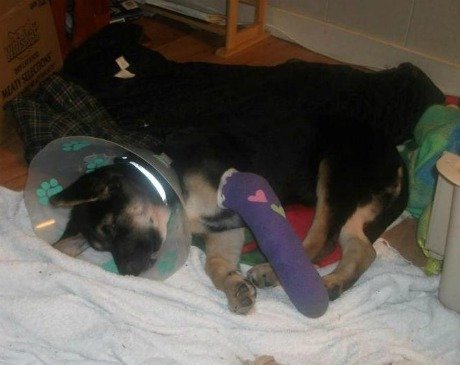 By Gagandeep Ghuman
Published: Feb. 11, 2012.
A Squamish family is hoping the community will help them bring Canuck back.
Albert Vaky, Charlene Adams, and children Mariah and Jordan had been foster owners for Canuck, a four-month old German shepherd for the past two months.
The family had been hoping to adopt her, but now with Canuck having hurt herself gravely, that possibility seemed to have slimmed.
On the last week of January, Canuck hurt herself by hitting her paw on the kennel given to the family by SPCA.
"She just lay down and started whining," Adams said.
They took her to the Eagle View veterinary hospital, where the veterinarian bandaged her paw and sent her home.
However, an X-ray later revealed a fractured elbow, for which Canuck was operated a few days later.
The family can't afford to pay the $2,000 bill for the surgery. The local SPCA is thinking of sending Canuck to the Victoria SPCA, a bigger branch which can pay the bill.
But that would mean Canuck will be adopted by a family in Victoria.
"Our family loves us. We want to keep Canuck here in Squamish," Adams said.
Adams works at Fields and her husband, Albert hasn't been able to find work in the past few weeks.
The family is hoping people the community will contribute whatever they can to keep Canuck in Squamish.
Adams has managed to collect some money from friends and family.
"We really want Canuck back in our home," she said
Charlene Adams can be contacted at Charleneadams@hotmail.com