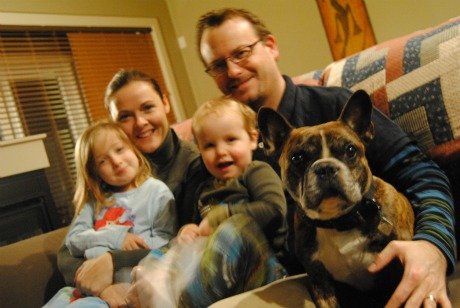 By Gagandeep Ghuman
Published: Feb. 11, 2012
The North family moved all the way from New Zealand to live in Squamish, but they are just Jaffies they say.
Just Another Family in Squamish.
It's a description that is not particularly off the mark.
They would fit well the profile of young families that have appeared in this column in the last year or so.
In fact, they are exactly the kind of new comer that Squamish has attracted over the past. They are under-40, have two kids (Ben and Charoltte), and Michelle works in the city.
Mike is a house-dad for now, and is hoping to find a job in Squamish or in the city soon.
Michelle North was born in Vancouver, moved to New Zealand with her parents when she was 13 years old.
Her father worked at the University of Waikato, but moved back to Ontario after living there for a decade.
Michelle lived in New Zealand for 25 years in Hamilton, where she met Mike.
The move to Squamish came from a desire for change.
"I was looking for a change in my career and a change in life," Mike North said.
Michelle still had family living in Vancouver and Squamish, and they moved to town last year in September.
Mike North says New Zealanders have a fairly similar cultures and geography, although he is no less impressed by the natural beauty of Squamish.   
Both New Zealanders and Canadians are friendly, less brash and less outspoken, and they big brothers next doors," Mike says.
It's mini-Canada, he says.
Still, the move does throw up challenges. He misses family, and friends, and the music band he `was in.
"I hope to be part of a music band here in Squamish," he says.
Michelle is enjoying being close to her family, and once they settle in, they hope to explore more of the outdoors of town.
"Squamish is simply stunning," Mike says.