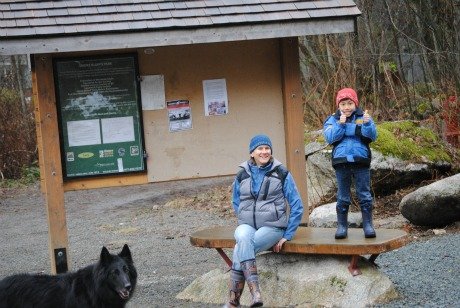 By Gagandeep Ghuman
Published: March. 3, 2012
Families at Hospital Hill neighbourhoods are hoping council will consider carving a slice of Smoke Bluffs Park as a children's playground.
The Hospital Hill residents would like this park to be created at the corner of the Smoke Bluff Road, adjacent to the Smoke Bluff Park.
The neighbourhood has got bigger in the past one decade, adding more young families and children between the age of one and 13, said Diana Gunstone, a resident of Hospital Hill.
"A childrens playground will really add value to our neighbourhood," Gunstone said.
Gunstone said the idea for a small children playground originated a few years ago, when young moms realised the nearest park was in Valleycliffe, only accessible by a crumbling Valleycliffe Trail.
Gunstone, along with Tania Monastyrski and Nathalie Boisvert, mobilised the neighbourhood and has collected more than 75 signatures for the park/playground.
"We think this would also serve as a community meeting place," Gunstone said.
Gunstone presented the idea of the playground to a Smoke Bluff Parks committee meeting on Thur. March 1.
She said the neighbourhood envisions a low cost, low maintenance natural park with climbing rocks and stumps, a rope swings, a teeter totter, tunnels that could be landscaped and made with natural materials or recycled resources.
"We want something that is natural and also benefits tourists and hikers," she said.
She said the community members are willing to volunteer to build the park.
"We have a lot of community support for this," she said.
Hospital Hill residents in the past have also brought that community support to bear on the Valleycliffe Trail, also mistakenly and stubbornly referred to as the Hunter Trail several times in district documents.
The residents were successful in lobbying the district, which has since pushed the trail improvements forward.
Ted Tempany of Dream Wizards said 600 tonnes of fill were trucked in to correct the badly eroded trail. The steep slippery banks are gone, he said, and the crosswalks have been improved for pedestrian safety.