By Gagandeep Ghuman
Published: March.3, 2012.
It seems like Kirstin Ridout, the new Mountain FM reporter, likes to look at half glass full.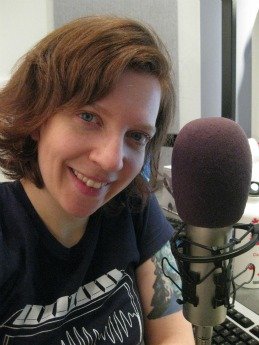 A life that is half-glass full of Squamish rain.
Ridout moved here from Dawson Creek, which was cold and icy, but not as wet as Squamish.
She doesn't miss the cold of Northern BC, and she has taken quite well to the rainy Squamish.
It's been more than three months since she moved here, but rain still retains its novelty for Ridout.  
"I love it," she said.
"I get a chance to wear funky rain boats, my frizzy hair is back, and I carry umbrellas around. It's all about the accessories," she said, laughing.
This isn't the first time, however, that she has worn those accessories.
Ridout was born and raised in Maple Ridge, went to school to SFU and BCIT, and has since worked at CBC Vancouver, and radio and TV stations in the Lower Mainland, and Northern BC.
Ridout fell in love with Radio Journalism at SFU, where she graduated from with an undergraduate degree in English. At SFU, she hosted a show called Vanlicious that profiled local music bands.  
To convert her passion into her job, she enrolled for a two-year broadcast journalism degree from BCIT. That landed her an internship in CBC Vancouver, where she did news and radio.
She soon realised she would have to go to a smaller community to get her hands wet in journalism.
That landed her at CKRW Rush radio station at Whitehorse, Yukon, where she got a variety of experience ?   
"I did everything there. I was an announcer, a writer, and a copy editor," she said.
She later moved to work at a TV station at Dawson Creek, where she did everything from daily news reporting to covering weather, and got a full-time gig as an anchor.
However, she yearned to hear her voice on the radio, and when she saw a job opening in Squamish, she knew she wanted to be here.  
Ridout said she always thought of herself as a city girl, although being a reporter in a small town like Squamish has changed that.
"People are so friendly and engaged here. Everyone is passionate about their community," she said.
Living in Squamish has also allowed her to visit her family in Vancouver more often. She also enjoys the outdoor recreation the town offer.
"I love that I can get a bike, step out my door and it's so gorgeous, any kind of weather, it's awesome.