By Gagandeep Ghuman
Published: March. 17, 2012
She promised them Canada, and she delivered on that promise last year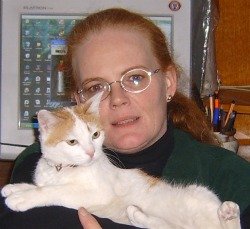 Dalyce Steward brought Leyla and Yonca to Squamish from Ankara, Turkey, where Dalyce taught engineering for over 14 years.
"Except the rain, they seem to love Squamish," Dalyce said of these new Squamish residents.
Dalyce first met the two kittens by chance, which came in the form of doors and windows left open one day in her home in Turkey.
It was 4 a.m. when Dalyce found out a visitor had sneaked in her house.
That intruder was a six-month-old kitten and it sat tight on Dalyce's bed.
Dalyce was amused at the audacity. The next three weeks she looked around in Ankara for a place that would take the kitten.
Unable to find one, she decided to keep the kitten herself.  
"She was such a sweet cat, she captured my heart," Dalyce said.
A few years later, Dalyce found another cat, but this time it wasn't sitting on her bed.
It lay upon a garbage bag, shrivelled, frightened, her whole body infected with bugs.
"She was so scared, I had to take her home or she would have just died," Dalyce said.
When Dalyce came back to Canada after living in Ankara for more than a decade, she also decided to bring both cats to Squamish.
Both the cats have serious medical issues, and even though pet care is relatively expensive here in Canada, Dalyce said she knew she wanted the cats to come home with her.
"They are my girls now," she said.