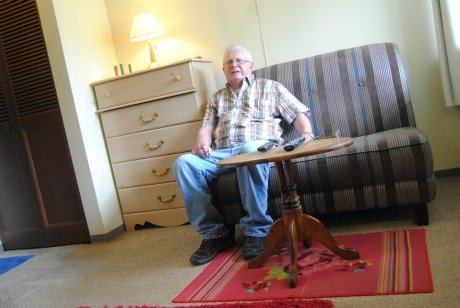 By Gagandeep Ghuman
Published: May 18, 2012
The increasing utility rate and its flat-rate structure will force a Squamish non-profit to cut back services.
Squamish Senior Centre Society representative Laura Modray said the ever-increasing utility bill, and its uniform application irrespective of the actual use, is unfair to the non-profit society.
The Seniors Centre Society might have to cut back on staff hours, and spend less on security and landscaping if no solution is found to the problem.
Each of the 70 units in the building is charged the same amount as a single-detached house in Squamish, even though each unit has just one tiny kitchen, a sink in the bathroom, one toilet, and one bathtub.
Most units are occupied by low-income seniors, who, in no way, use as much water as the single family homes, Modray said.
"Water meters could prove our tenants are being overcharged for their usage," she said.
This year, the society would have to pay $44, 183 in utilities, which is 9.60 per cent of its annual budget of $460,000.
In five years, the annual billing has increased by 35. 3 per cent.
She said an average household pays one per cent of its annual budget as utilities.
"We are paying ten times more than the vast majority of people in Squamish to have water, sewer, and garbage removal. Why is it?" she said.
The only source of income for the Squamish Seniors Centre Society is the rent, which can't be raised by more than three per cent in a year.
Although the rent has been increased by two per cent this year, Modray said the society wants to keep the rental rate modest as seniors live on fixed incomes that don't increase often.
Modray has written several times to the district about the issue. This year, the society got a letter signed by Joan Greenlees, who promised to look into the matter.
She said the water rates can't be adjusted for this year as, "we are not on a water meter rate system."
However, she said, the district is currently engaged in revising the water and sewage bylaws, and will take into consideration the issues raised by the society.
At a regular council meeting on Tues, May 15, Bill Rempel, the president of the meeting, made a plea before the council, asking them to find a way out of the predicament.
"We're optimistic this council will address the issue," he said.