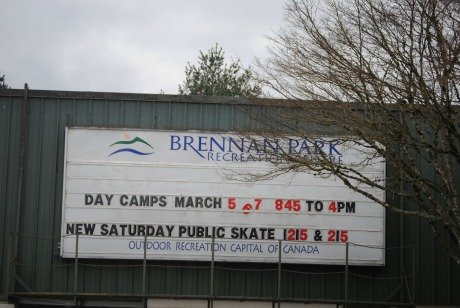 By Gagandeep Ghuman
Published: June 26, 2012
Thieves took off with two commemorative bronze plaques installed in the Brennan Park Recreation Centre on Wednesday, June 20.
Local RCMP Sgt. Wayne Pride said one plaque was stolen on the night of June 18 from outside the swimming pool, and the other was taken from the concession stand on June 16.
The approximate value of the plaques was $1100.
Both the plaques were installed at the opening of the centre.
Meanwhile, there are more reports of bike thefts and business break and enter.
On Wednesday, June 20, police received a report of a women's 10 speed Norco Bigfoot mountain bike being found near school board on Second Ave.
The bike had been locked to a fence on the evening of the May 17 and was stolen the next day at 9 a.m. 
The owner located it on June 20, at 8 p.m., stashed near the school board near Second Ave, with a missing wheel, and a damaged body.
Another break and enter in a business was reported on June 19 at 2 a.m. Police responded to an alarm at the Shell Service Station on Highway 99. Police found the front door was smashed but no entry was gained.
A police service dog was called to the scene and police arrested a 29-year-old Squamish male, well known to the police.
The man made an aborted ttempt to flee on a bicycle he had stolen on May 3oth. The male is being charged with possession of stolen property in relation to the mountain bike and the investigation into the attempted break and enter.