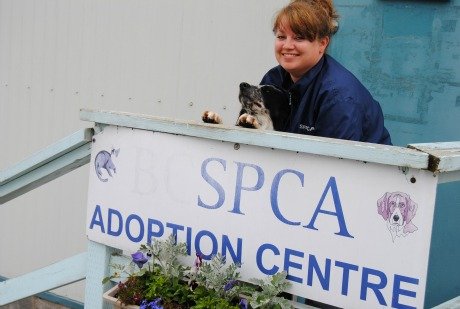 By Gagandeep Ghuman
Published: July 21, 2012
The local SPCA manager, Marika Donelly, often says SPCA is one of the most well-respect charity in Canada, and one of the best to donate to.
Now, her words are being backed up by the MoneySense magazine.
The BC SPCA is one of only six Canadian charities to earn an A+ – the highest overall rating – in MoneySense magazine's 2012 survey that rates 100 Canadian charities for overall efficiency, transparency and donor stewardship.
The results came as no surprise to Donelly.
"People trust the SPCA, and this is a measure of their trust," she said.
SPCA has $16.8 million in revenue for an average of three years, and its top executive compensation was $164, 897.
This year, the agency investigated over 7,000 complaints of suspected animal abuse in 2011, including the Whistler-area sled dog massacre.
As much as 76.1 per cent of all donations go towards the programs and services.
In addition, with a cost of only $16.47 to raise $100, the BC SPCA earned the highest rating possible in the category of fundraising efficiency as well as A+ or A ratings in every other category.
Money Sense created Canada's first charity rating system to determine which charities score highest in categories such as fundraising efficiency, governance and transparency, compensation and overall charity efficiency.
Calgary foundation, Vancouver foundation, Nature Conservancy of Canada, Canadian Red Cross Society, and Calgary Interfaith Society are some of the other organisations that were awarded A+ by the magazine.
BC Cancer Foundation, United Way of the Lower Mainland, Canadian Cancer Society, B.C. & Yukon division, Health and Stroke Foundation of BC, British Columbia Children's Foundation, VGH and UBC Hospital Foundation were some of the other BC foundations that were found to be the best charities.
Charities were scored in four key areas (program spending efficiency, fundraising costs, governance and reserve fund size) before being assigned an overall letter grade relative to their peers.
The magazine contends the ranking helps donors to pick organizations that spend their money wisely.
For local SPCA managers like Donelly, such news also helps to put the focus back on issues such as adoption.
There are 61 cats and dogs that are waiting to be adopted at the SPCA, she said.
"We are hoping they would soon find homes," Donelly said.