By Gagandeep Ghuman
Published: Oct. 25, 2012
Conservation Officer relocated a bear last week after it was found persistently feeding on apple tree in Brackendale.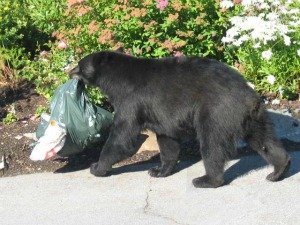 A Dangerous Wildlife Protection Order was issued and the resident complied by removing all the fruits.
Conservation Officers also conducted a compliance road check in the Squamish Valley area.
As a result, the road check produced a wide variety of offences for the officers. During the road block officers were faced to deal with loaded firearms in vehicles, open liquor in vehicles, suspended drivers and illegal possession of fish and wildlife.
The overall compliance rate was relatively high given the volume of backcountry and resident use, said Conservation Officer Simon Gravel.
The conservation officer service has been forced to destroy 12 bears within the Squamish area since May.
With the increase in cougar and bear activity, the Conservation Officer Service and Bear Aware are hosting the 3rd 'Living with Wildlife' presentation today, Oct. 25.
"Bear 71", a National Film Board short will be shown followed by a Living with Wildlife presentation and a Q&A afterwards.
This event will take place at the Squamish Adventure Centre.  Doors open at 6:30 p.m.