By Gagandeep Ghuman
Published: Oct. 30, 2012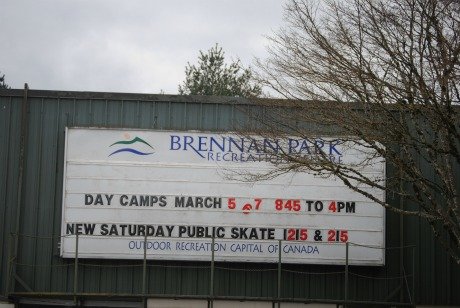 District of Squamish will remove six trees near the Brennan Park Recreation Centre to prevent any further building damage as the trees grow larger.
The trees will be taken down November 5.
No significant impact is expected for people accessing the building that day.
The trees in question were originally planted too close to the building, said Christina Moore, the district spokesperson.
This  caused some cracking in the building foundation, excessive leaf and needle accumulation resulting in roof damage, and overcrowding in the garden for planting and irrigation.
"We need to be proactive to deal with this issue before building repair costs start to escalate as the trees grow even bigger," said Bob Smith, the District of Squamish's director of operations.
"Once the trees are removed, we will develop a new planting design to include more appropriate plants and trees to avoid similar problems in the future. The re-planting will take place in the spring."
The trees, between 35 and 40 years old, are cedar, pine and deciduous trees. Five are planted on the east side of the building. One is planted on the south side.
In recent weeks, 11 trees along Loggers Lane by the Ministry of Forests building were also taken down, this time due to safety concerns. Two reported close calls with fallen branches prompted District operations staff to remove the trees. The trees were cottonwood trees which, when they reach old age, can become dangerous.
"This is a high traffic zone with Corridor Trail users and the Squamish Montessori School in that area," says Smith.
"We did not want to take any chances on public safety by limiting our response to trimming and pruning."
The stumps will be removed by the end of November.