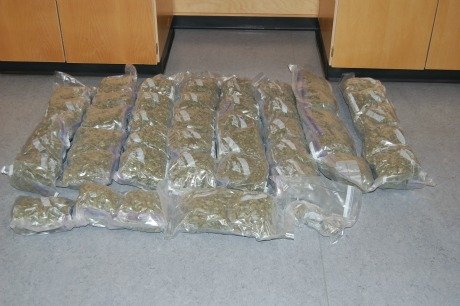 By Gagandeep Ghuman
Published: Dec. 31, 2012
A routine traffic stop on the Sea to Sky Highway yielded a large quantity of marijuana that police believe was on its way to Whistler for the holiday weekend.
On Thursday, Dec. 20, a RCMP officer stopped a pickup truck for speeding on Hwy 99 near Cat Lake Rd.
Detecting the odour of marijuana, the officer investigated and located 18 pounds of marijuana in a large hockey bag.
The drug was divided into large ziplock baggies which were vacuum sealed again inside larger plastic packaging. The police also seized a wireless debit machine.
A 29-year-old Whistler resident is being charged with possession for the purpose of trafficking.
On the same day, police seized drugs in another traffic check.
On routine patrol, police conducted a traffic check on two males, one of whom was a 32-year-old Squamish resident well known to local police.
The other man was a 23-year-old Pemberton resident.
During the stop, police located a large container with 98 grams of hash, 18 grams of vacuum sealed marijuana and several crack pipes.
Two days later, on Dec. 22, police pulled over a vehicle on Highway 99 in Valleycliffe, near Clarke Drive.
A 26-year-old Squamish male was arrested on an outstanding warrant for possession for the purpose of trafficking.
A container of Mace found in his possession has also led to a weapon for dangerous purpose charge.
A 55 year-old-Squamish woman in the same vehicle became aggressive and assaulted a police officer.
Police seized approx. nine grams of methamphetamine, five grams of cocaine, and one gram of heroin, along with 2 scales, bear spray, a crack pipe and numerous cell phones.