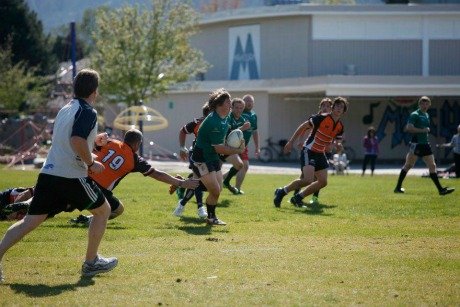 By Gagandeep Ghuman
Published: Feb. 21, 2013
The Sea to Sky Eagles rugby league will host the first annual BCRL Canadian International 9s Championship on Saturday, May 11, in Squamish, BC.
This will be the first ever Rugby League tournament to be held in British Columbia, and organisers hope it will become an annual event to mark in the diary.
International teams from New Zealand, Fiji, and Western USA have all confirmed their presence.
Teams from Papa New Guinea and Denmark have also confirmed their presence for the 2014 Championship.
Within the country, Alberta, and all seven BCRL clubs have confirmed their attendance for this championship.
Some of the BC teams include the Kelowna Crows, the North Vancouver Island Wildcats, the Richmond Bears, Sea to Sky Eagles, Surrey Beavers and Vancouver Dragons.
The event itself will be a one day, winner takes all.
There will be four groups of three players, and each team will play against each other with the top teams from each group advancing through to the semifinals, and then finals.
There will also be a girl's exhibition match that will take place before the men's final.
"We aim to launch the girls' squads for 2014 as well as each club having a U20 Junior squad as well," said Ally Mac, the communications manager for British Columbia Rugby League.
The top prize will be a full set of custom kit from our Official Kit supplier – Samurai Sports Canada.
Mac said the games will kick off with a traditional dance by New Zealand and Fijian team, a 'unique and never before seen spectacle in the region."
The Sea to Sky Eagles is the local team in the Sea to Sky corridor, with players located from Pemberton all the way to North Vancouver.