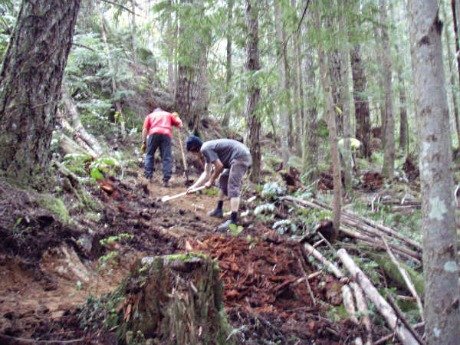 By Gagandeep Ghuman
Published: Jan. 21, 2013
Logging on four parcels of land on Ring Creek FSR North Road will impact six popular mountain biking trails.
Re-cycle, Homebrew, East Infection, and Learning to Fly are some of the trails that will be impacted. 
The harvesting starts mid-January on land located on the Ring Creek FSR North Road.
SORCA vice-president Jeff Cooke said the extent of the impact won't be known until the logging is completed.
He emphasised, however, that mountain biking advocates and logging companies work amicably to resolve such issues.
"Logging activity will happen on private land and we fully understand that," he said.
Long-time SORCA chair, Cliff Miller, also said the logging might impact some trails, but said logging work is expected.
"We are not opposed to logging just because it will impact the trails," he said.
"This is a working forest and logging work is expected."
Miller said more logging will happen in the next five year years, but on the upside, mountain bikers can work on the trails for the next 40 to 60 years in the area that has just been logged.
Miller also underscored the need for greater dialogue between mountain biking advocates and logging companies.
"As long as both parties are talking to each other, the trail issues can be worked on," he added.
In the latest development, sections of the Ring Creek FSR upper road that leads to the SORCA shelter and provide access to Half Nelson and other trails will be closed for various periods of time during the harvesting process. 
The work is expected to take 6-8 weeks with a completion date set for the middle of March.
The road will be closed for public access for approximately one week from January 15-22 as active logging will be taking place along areas adjacent to the road.
The contractor will be putting up trail closure signs at trail heads, and will have a flag person working at the junction of the Ring Creek North FSR and the Diamond Head Road during certain periods of operation. 
SORCA is asking that the riders respect the area closures as there will be heavy equipment and active falling in the areas of the cut block.
The contractor has also asked that people refrain from parking in the lower lot on the Diamond Head Road, at the Ring Creek FSR junction as logging trucks will ply the area.   
Long-time government liaison for SORCA Mike Nelson said there are at least 20 authorized mountain biking trails in and around Squamish, which are protected under Section 56 of the Forest and Range Practices Act.
Since January of 2011 SORCA has been in receipt of over $100,000 for either trail maintenance or new trail construction from logging companies and the Ministry of Forests.