If you live in the region, and have children, you might know Jordan Sturdy from the North Arm Farm in Pemberton. If you are interested in politics, you might know him as the Mayor of Pemberton. Now, the ear-ringed entrepreneur and politician hopes to expand his orbit to Victoria. Excerpts from a Reporter interview with the MLA hopeful. 
—–
Q. Why this transition from being a Mayor to being a MLA contestant?
 A. I have been the mayor of Pemberton for three terms, and I have a fairly good understanding of local government initiatives and issues. I'm a Board member of the SLRD, and I have worked with Joan McIntyre, and we have dealt with all the issues here, the First Nations issues, the highway upgrades, forestry issues, natural disasters…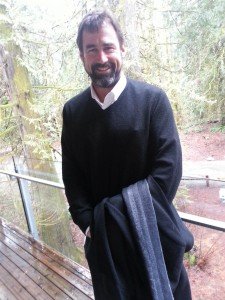 I have thought about running for provincial office for some years, but the opportunity was never there. I was approached in August this year when it was clear Joan wouldn't be running. I was asked if the timing would be right for me, and the timing was right. Three terms as a mayor provides me with the background necessary to do the job. This is an exciting opportunity.
Q. Why did you decide to run as a Liberal party candidate?
A. I have always been a Liberal, I'm a business owner, I'm a free enterprise type of individual. I believe in fiscal responsibility, a smaller government as opposed to a bigger government. I believe in the need to ensure there is regulation in place to safeguard the public interest, but also in having a balance so thatthe government doesn't strangulate personal initiative. Plus, it would be unlikely to be successful as an independent.
Q. You mention fiscal balance; is this something only the Liberals can achieve?
A.The Liberal party has a good track record of that, yes, in terms of fiscal responsibility, keeping government smaller as opposed to bigger. I'm not uncomfortable with debt, but operational deficit on an annual basis is not a model I believe in.
 Q. If the Liberals don't come to power, how effective would you be as an opposition MLA?
 A.That is obviously a realistic scenario, but I think I'm well-positioned to be effective. I'd have a tremendous amount to learn, and any newly elected politicians are going to have the same challenge. Whether you are in opposition or a member of the government, it's about understanding the issues, and whoever the government is, I think would be receptive to good ideas.
Q. What are some of the top issues facing Squamish?
A. There are a number of them: One is transportation, the connections between both north and south to Whistler. We need to be working with the municipalities and the regional district, as well as the lower mainland and Translink to see if there are opportunities to create public transit.
Q. What are some issues facing Squamish?
A. The goals and ambitions of Squamish, and the economic base of Squamish. Is it going to be a residential community? How do we incorporate the commercial base and fit in with the bigger picture? Then, we have access to the port, the waterfront, the planning process of Howe Sound… There are potential needs and desires in the area that need to be aligned.
Q. How can we re-energize Squamish's economy?
It's a good question, but it's a hard one to answer. I mean, we are dealing with the same issues in Pemberton, but there is not really a single answer. In Squamish, the industrial base and the residential-commercial base are important.
Q. If elected, what will you do for Squamish?
I can promise to listen and understand, and understand what the consensus is on where the municipality and the community want to go, and help put that into action. It's a role of facilitation, if there is legislation that needs consideration for amendment t facilitate  the goal of community, then that is the role of the MLA.

Q. What is your view on the recent ethnic outreach scandal?
It's the responsibility of all parties to reach out to all, and this is a challenge we are facing, how do we communicate with everybody, and it's hard to do. I think everybody does the same thing trying to get out there, understand the issues and improve the situation.
But if it is demonstrated there was misdirection of public funds to favour one group, then that is completely inappropriate and has to be condemned in the strongest possible terms.
What is your position on Garibaldi at Squamish?
I don't have a particular position on it, but I have followed it with interest, its ups and downs. It's a huge project that will change the community in a dramatic way, and I'd frankly like to see it as an issue that is determined by the community.
How do you rate health care in our community?
Provision of health care in the Sea to Sky region is actually pretty good. I think from an emergency health care perspective we do a great job, our access to health care in Vancouver is good, but we could have more Hilltop House initiatives in Whistler and Pemberton.
We also need to have a broader perspective on healthy lifestyles. Over the course of last year, I have lost 50 pounds, and I feel like a completely different person.