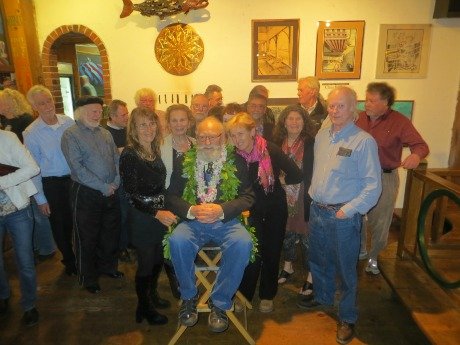 By Andrea Hoff
Published: May 11, 2013
It was the birthday of the King of the Republic of Brackendale on Saturday March 9, and as expected, it was a full house at the Brackendale Art Gallery (BAG).
The 150 people that gathered to celebrate Thor Froslev's 80th birthday with him and his wife Dorte ranged in age over seven decades and at least as many countries.
It would be a bit of an understatement to say Thor is a local legend.
He is known for his one of a kind gallery and home in Brackendale (referred to fondly as the BAG), his advocacy work with the bald eagles that frequent the Squamish area in the winter, his keen love of fly fishing, the Brackendale Fall Fair, his Canada flag painted pick-up truck, his distinctively Danish personality and, by his signature long white pony-tail and denim overalls.
On the night of his birthday, he did not disappoint his friends and followers. He donned formal attire, overlaying his overalls with a dinner jacket. He embraced and welcomed each well-wisher as they arrived.
The night's celebration commenced with a freshly composed song by Carol Grolman, in honour of 'The Mayor of Brackendale.' And like many of the speeches that followed, the song told the story not only of Thor's own life journey but also of how he came to found the Brackendale Art Gallery:
                   In 19-5-seven, at age 24
                   A young lad left Denmark, he knew there was more!
                   A sense of adventure led to Canada's shore.
                   Did he know then he'd become "Dic-ta-Thor?"
With just the right mix of humour and roasting, Carol's song had the guests all joining in heartily as the chorus came around:
                   So let's toast our pal
                   The mayor of Brackendale
                   Let all his bells ring as together we sing
                   To Thor, the man we regale
                   In the Republic of Brackendale!
When 80 years of a life have passed and, as Thor pointed out during his own speech (while holding up a tape measure), "when you look at 80 on a measuring stick, there's not much room left after it" – it's what you build in a community and a place that matter.
For all of Thor's hard edges, it's not only the physical space of the gallery that he has built.
As writer and artist Dakota Hamilton reflected, "One of the things people don't know about Thor, is that he takes people on – people who don't have a great amount of confidence, and he gets them to do things, build things – and he never criticizes them."
Many of the guests reflected on Thor as a father figure or grandfather figure – depending on their age.
Carla Fuhre describes Thor as the father she never had: "There are so many memories in this place. Not just the theatre I've been involved with here – this is where I had my wedding reception, my 40th birthday party, my husband used to live here before I even met him, and our daughter has basically grown up here too."
As Thor recounted the origins of the BAG, everyone listened to a story that never gets old; "This is what this place is really about – the friends here to celebrate with me and to celebrate with each other."
The art gallery, he said, began in 1968, as an inspiration from the Classical Joint, a coffee house that existed in Vancouver from 1968 – 1990.
"That's where the idea for this place arose," he said.
"I didn't know how to build it, I didn't know how to run it, I didn't know how to do anything, but I knew that if I got the right people together, it could be done."
It is this unfaltering determination and belief in people helping each other that makes the BAG and Thor Froslev the originals they are.
And no matter the age, as Carol Grolman aptly sang in her adaptation of I Did it My Way (written by Paul Anka for Frank Sinatra), "Thor does it his way!"