By Gagandeep Ghuman
Published: Nov.9, 2013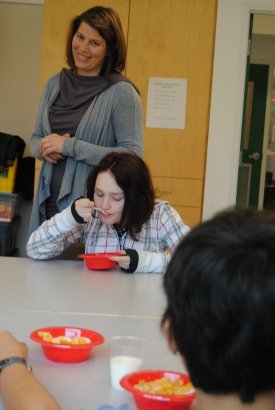 About a third of elementary-school kids in Canada don't eat daily breakfast, according to a 2010 study by Breakfast for Learning, a nonprofit organization that raises funds for school breakfast programs. 
Squamish Breakfast Club wants that to be history, at least here in our town.
With that aim in sight, the Squamish Breakfast Club has served 7,870 breakfasts to elementary students in Squamish in the last one year alone.
Early morning every day, students at local elementary schools and now Don Ross Secondary School start the day with hot porridge, cereal with milk, fruit and granola bars.
On average, the volunteer run program feeds 13 children per day at the cost of $6.9 per breakfast, says Lori Broker, the program director.
Broker says the program has a very simple aim.
"We want to help our local kids in the public elementary school system start off their day with full stomachs and open minds," she said.
The program was started several years ago with the help of Helen Brownrigg of Big Brothers and Big Sisters, a well-respected figure in the community.
But when Brownrigg left Squamish three years ago, Broker decided to take it over to create more continuity to the program.
"They start off the day with full tummies and just really positive feelings about school and coming to school," said Margaret Paxton, principal at Squamish Elementary.
Hungry children are also more likely to have lower math scores and are more likely to have to repeat a grade, according to a 2001 article in the medical journal Pediatrics.
While the science behind having a healthy and sufficient breakfast is well proven, Paxton believes that the best part of the program isn't that it's filling otherwise empty, rumbling bellies.
"Not only do kids get fed, but they, and even more importantly I think, build relationships with the volunteers," said Paxton.
Donations and support from the Squamish Rotary and Broker's business, Squamish Family Chiropractic, help make the breakfast club a success.
As many as 25 volunteers commit about half an hour of time each week to ensuring that the program continues smoothly.
The charity is also helped at Mamquam Elementary by the women of the church group have been bringing freshly baked muffins for years.
Program coordinator Lori Broker said she would like to thank Rotary Club of Squamish for funding the program and to all the volunteers for committing their time and efforts.
Those interested in giving half an hour of their time one morning each week can call Lori Broker at Squamish Family Chiropractic, 604.815.0031.