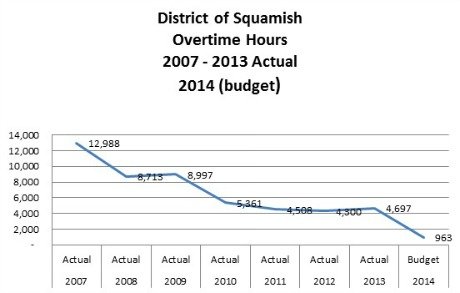 By Gagandeep Ghuman
Published: March 8, 2014
In 2007, District of Squamish staff logged 12,988 hours of overtime, but that number has been on a downward slide since, thanks in-part to Squamish Service Initiative.
"Our systems are old and the accounting system is poor and it inhibits our ability to do easy reporting." Financial Service GM.
Last year, DOS staff logged only 4,697 hours of overtime in 2013, a significant reduction from five years ago.
In 2013, the district paid $265,723 in overtime to its employees; in 2012, as much as $233,110 was paid in overtime.
The dollar figure for what the district paid in OT in 2007, the highest year in the last six years, is not available.
After much prodding, the district recently provided a line-item breakdown of the budget, but OT information was missing.
The accounting system at the district is poor and it's a more labour intensive process to extract information on overtime, said Joanne Greenlees, the GM of financial services.
"Our systems are old and the accounting system is poor and it inhibits our ability to do easy reporting," she said.
But that doesn't mean that overtime isn't reviewed, she added.
"We do that exercise periodically, it's just more labour intensive to pull that information out," Greenlees said.
District spokesperson Christina Moore said a line-item for overtime doesn't actually show up in the budget as it's embedded in the budget for various areas such as snow clearing, broken water mains etc.
"While we do accrue overtime, out mandate is to avoid it whenever possible," Moore said
"We only budget for overtime where it is not avoidable, in the fire Department and operations department."
Work needs to be done to update the general ledger of the district's accounting system, but that work has no impact on the accuracy of the numbers presented to council, Moore said.
"Management works hard to schedule staff efficiently in order to avoid using overtime as it is such an expensive labour choice," she added.
More said certain departments run night shifts at certain times of the year and provide shift premiums for that where necessary.
The fire department budgets for overtime as their operational needs require a career member to respond to call outs after normal work hours and on weekends.
Operations also budgets for some overtime as there are inevitable call-outs for emergencies.
Overtime was close monitored and reduced as part of the Squamish Service Initiative, an initiative that was led by former Squamish CAO Kevin Ramsay and then Mayor Greg Gardner.
In 2010, SSI noted, some district workers received as much as $10,000 over their salaries in overtime.