By Gagandeep Ghuman
Published: May 15, 2015
CANCER was in for a surprise: Megan Pischke. After she was diagnosed with Stage 3 breast cancer, Megan saw cancer not as something she needed to embrace but something she had to fight and win.
And she won.
It's been three years since she underwent surgery and radiation for breast cancer and the cancer hasn't come back. It may be two more years for her to be officially free, but Pischke knows she won't let it back in ever.
"I feel I'm cured," she says.
Pischke's confidence doesn't come from false bravado but from self-discovery guided by past experience working with breast cancer survivors. She had to discover what self-worth she had.
"I wanted to fight for MEGAN! For me personally, a lot of that internal conversation had to do with self-worth—and I am so worthy of being here," she says.
A lot of people who know Pischke would agree—especially breast cancer survivors. Before she was diagnosed with cancer, Pischke had dedicated more than 16 years of her life to supporting breast cancer survivors across North America. She first started supporting cancer survivors after hearing the story of Monica Stewart, a snowboarder who had been diagnosed with breast cancer.
Four snowboarders, Lisa Hudson, Kathleen Gasperini, Tina Basich and Shannon Dunn, were planning to honour their friend Monica by creating an event that paid tribute to Monica's passions, Snowboarding and music, while communicating the urgent importance of awareness and education for breast cancer. They formed B4BC (Boarding for Breast Cancer) and held their first event at Sierra-at-Tahoe, California, which drew  thousands of people and internationally acclaimed acts including the Beastie Boys, Blink 182, Foo Fighters, Linkin Park, Moby, Less than Jake, Luscious Jackson, Ozomatli, Spearhead, and Supersuckers, and raised $500,000. Pischke attended the festival and came back home inspired and has since worked with B4BC to organise hundreds of events that raise awareness about healthy eating and breast cancer.
Pischke also worked with B4BC as Wellness Ambassador providing breast cancer survivors free retreats that focus on snowboarding, surfing, and yoga along with meditation and nutrition. Working with The North Face, she has also raised $250,000 for breast cancer survivors. About eight years ago, Pischke also started working with B4BC to fundraise for the Survivorship Fund which helps women go on free retreats. But there was no way Pischke could have foreseen that she would be one of those cancer survivors. In 2012, she noticed a small lump in her breast which was diagnosed as Stage 3 breast cancer.
"I felt so scared and small, the world couldn't hold you anymore," she recalls the moment she received the news.
After the initial denial and shock wore off, Pischke found the strength to fight cancer in the stories all the women she had met at her retreats. She remembered how strong these women were as they went about living their lives as they fought cancer. It was a cruel irony but perhaps she couldn't have survived cancer herself without having that reserve of strength in the stories of those women.
"I felt I could identify with them now, and this was the time to walk the talk," she said.
Even as she underwent chemotherapy and radiation, Pischke says, she never focussed on survival rates of cancer but rather on herself and her health through meditation and yoga. She was encouraged by the doctors who told her good health and active lifestyle would held in her good stead. Also giving her strength was the Sea to Sky community, who organised fundraisers to help her family deal with the costs.
"I just cannot tell you the healing power love has and I am forever grateful of being able to receive something like that," she said.
When Pischke was undergoing chemotherapy, she lost her brother-in-law in an avalanche. His death made her stare at her own mortality but also made her aware of how indestructible her soul was.
"I was and still am certainly interested in seeing what the human body is capable of," she says.
"So I'm going to just keep showing up every day, and see how that turns out for me."
B4BC also documented Pischke's journey through a short film called Chasing Sunshine, which will be premiered on May 30 at 6:30 pm in the Living Room restaurant in Squamish.
He had a deep beautiful voice and they would always tell Bill Brine he should be announcing on the radio.
He heard it from friends and family and from strangers in Mexico. With your voice, you should really be on the radio, they would say and Bill would laugh and say he would think about it. His wife, Judy Brice, remembers a voice soft and yet deep enough that it would carry across a long hall without a mike and without sounding loud. It carried across the hall as he became Lord Chamberlain in the Medieval Feast at the Temple in the evening while working as an accountant in the Banff Springs Hotel. That voice called people as a mermaid prepared to dance under water in a hotel in Bahamas where he worked as an accountant.
That voice is gone, snatched by cancer but it couldn't take away Bill Brine's spirit which shines through when he talks with the help of voice prosthesis, an artificial device made of silicone placed in his throat. Bill has been cancer-free twice, once for nine years, and then again for six years after the cancer returned.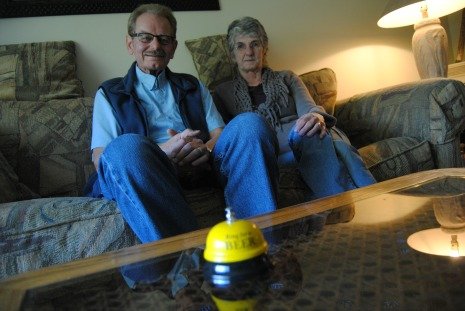 Although he had never smoked in his life, Bill was diagnosed with throat cancer in 2000 after a sore throat stuck for nearly three months. The doctors don't have an answer for why the cancer chose Bill although he has an explanation: He got lucky, he says smiling.
The cancer was aggressive and Bill was told he wouldn't survive six months without the radiation. He was 'lucky' to be healthy enough to qualify for a special clinical trial which used heavy chemotherapy twice a day on 15 patients selected for the trial. Bill had always eaten healthy and stayed active so the cancer was a surprise but it has rarely managed to shake his resolve to live life fully. 
Judy and Bill had been planning a trip to Mexico when he was diagnosed in 2000 and she still remembers the first thing he said: "This is bloody inconvenient."
Even as he became the 'guinea pig' for the clinical trial that left him nauseated and fatigued after being subject to heavy radiation twice in a day, Bill made his cancer small by thinking of it as no more than a common cold or flu.
"I could have said, 'oh poor me', but that is not what keeps you strong," he says.
Bill drew on his desire for travel to remain strong and committed. To travel is like a book, he says, and he who reads few pages gains very little knowledge. He had lived in the Bahamas and travelled throughout the US, Mexico, and enjoyed cruise sailing trips to the Caribbean. He wasn't going to allow cancer to stop him now.
"I can't control the cancer coming to me but I can control what I do to my mind," he told himself.
He was cancer-free after the surgery for nine years but the cancer came back in 2009. This time they couldn't do any more radiation because the cells had been damaged from the previous one. The doctors told him he had to undergo laryngectomy, the surgical removal of the larynx, the voice box. They would have to remove his voice box, 'pull up' his stomach, and install an artificial device made of silicone placed in his throat. It was a six-hour operation in which surgeons performed two different surgeries at one time. As he recuperated later in the hospital, the nurses would have to shake him to make sure he was breathing normally.
The recurrence of cancer failed to dent his spirit; rather it was strengthened, Judy says, who still remembers his unflappable spirit. "We'll get over to the other side and take a vacation," he had once said.
He had to wait for four months before they could install the device when he had to convey everything by writing and using a bell, which says 'Ring for a Beer', which wasn't the most popular sound in the home, jokes Judy.
How did Bill Brine make his throat cancer inconsequential in his mind? His inspiration came from his mother, Verna Brine, who had breast cancer but never let it affect her. "All my life I had never seen her depressed and she never said she was sorry she had cancer," he said.
Bill does miss his voice but he's not the one to rue the past. He claps, smiles and instinctively presses the hole in his throat that blocks the air and brings back the voice. "I don't look at the past because I'm too busy looking forward," he says.
Our abundant nature is a source of pleasure for all of us. For Danielle Childs, it's the source of strength. A cancer survivor, Childs finds energy and healing in the resplendent snow-peaked mountains, in the flow of the river and the birds fluttering in the Squamish skies.
She feels herself to be a part of the nature and its cycles and in this participation she finds strength to accept, fight, and survive cancer.
Along with her business partner Janet Martinsen, Childs has trimmed hair and beards at the Cutters Barber Shop in Garibaldi Estates for the last 35 years. She was diagnosed with breast cancer in 2011. It all started one day when her routine mammogram felt painful. She came back thinking it was just old age but was later asked to do another diagnostic test. She still remembers the moment she saw it. After the ultrasound, the technicians told her the doctor would see her shortly but she knew something was wrong before the doctor could come to see her.
"I turned around and there it
was on the monitor, a bright white spot like a moon," she says.
She was told the cancer had travelled to her lymph nodes but she had a good chance of beating it. Danielle remembers the grim toll the diagnosis took on her, giving her many sleepless nights and inducing anxiety about the future.
"It's all that keeps going on in your mind, it tests you all the time," she said.  
To beat the pessimism that comes with this diagnosis, she started going on her daily morning walks with a renewed vigour. She was also helped by her family with calls from her brothers and sisters. But the biggest help came from the family of customers who keep giving her moral and emotional support throughout her ordeal. After her surgery, radiation and assurance from doctors that she had a good chance of survival, Childs felt more upbeat with every passing day.
It's been four years and her cancer hasn't returned. She has trained her mind to be more optimistic about the future, waking up every day with a reminder that she was lucky to be alive and well. Even though she lives alone, her siblings and nieces and nephews have her back and she gets immense motivation from her clients who keep reminding her that she is going to be okay. Their encouragement, she says, is a reminder to her of how sensitive men can be.
Cancer has changed Childs to appreciate the little things in her life, the sunrise and the sunset, the meandering clouds, the mountains and conversations with her siblings. She calls up her family more often now and loves to talk with her sister, Huguette Viens, about growing up in the small town of Falher, Alberta, and the characters and incidents from childhood that make them laugh. She calls up her brother and they debate hockey endlessly as she supports Vancouver Canucks and he is a big supporter of Toronto Maple Leafs.
Gardening has always been one of her favourite activities but now she enjoys it more than ever. Planting the seeds makes her calm and she feels energised by the fact that she is giving life and hopes that the energy of Mother Earth will return some of it back to her.
His cancer is a mystery, lurking somewhere in his body but Greg Porter is unfazed by it. He has seen death up close twice to know he can smile and live through it. Working as a tree faller, Greg was intimately aware of how small human life can be in face of nature. But the realisation came one day as he and two other men surveyed logging boundaries in Stein Valley on a helicopter. The cargo net smashed the plane's rotor and the helicopter fell to what seemed like their certain death.
Greg squeezed his body against the plane and prepared himself for death but the copter landed on a pile of snow, narrowly missing two huge trees. He survived another such plane crash in the late 80s when the rotor caught the side of the trees and fell to the ground.
Greg laughs as he recalls his wife Debi French-Porter's joke from the past: "Sooner or later, your number will be up." That was 35 years ago, and now he's faced with another test of his survival skills: His cancer. "If I can beat death back then, I think I can beat this one too," he says, laughing.
Greg Porter was diagnosed with prostate cancer in 2013, which was aggressively spreading and had metastasized outside his prostate. The surgery caused a lot of nerve damage as doctors scrapped away the cancerous tissues, "vacuuming out"  his groin followed by 34 radiation treatments.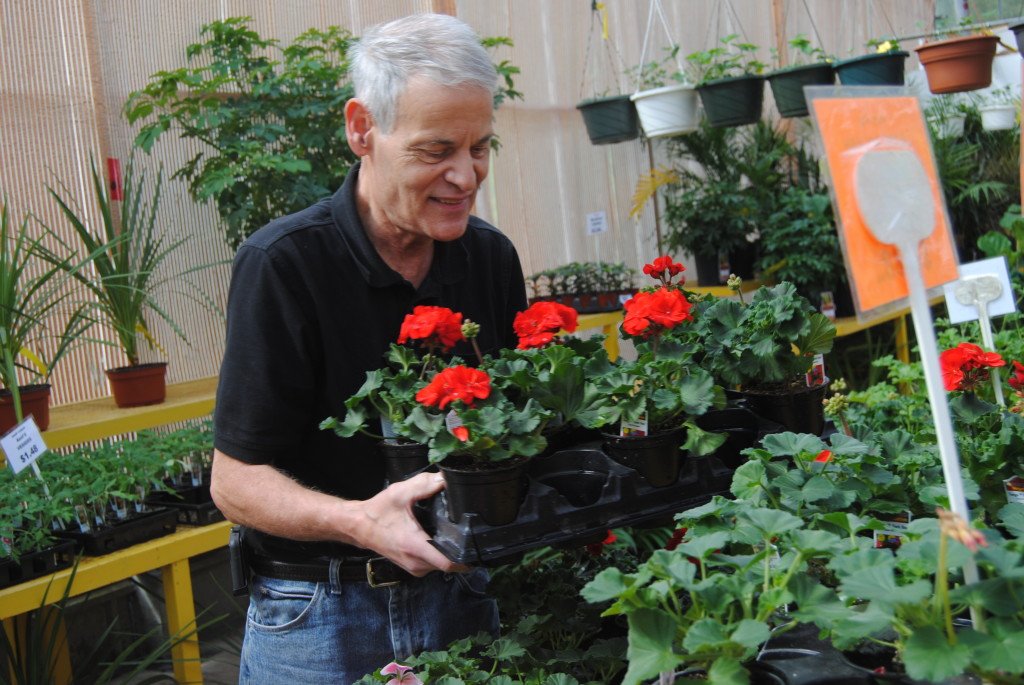 But even after the surgery, they noticed there were tiny bits left on his abdomen which chemotherapy had made no dent on. They later found through blood tests that the cancer had been growing fast but they couldn't find its location. The doctor has told Porter they are unaware of its location or what exactly they are dealing with. Greg is now one among the 250 people all across Canada who is taking part in a clinical trial that is testing newer technology to better diagnose such cancers.
Despite this mystery surrounding the location and aggressive pace of cancer, Porter is determined to not let the cancer dominate his day to day life. The cancer may be growing in him but he has outgrown it in his own mind with the help of good friends and a positive outlook towards life. He works till late at night, sometimes sleeping in his back office at the Garibaldi Nurseries and feels mentally and physically strong. And yet, there are sharp painful reminders of the cancer. The original surgery inflicted heavy damage to his abdominal wall as the doctors cleared out the cancerous tissues and later used a mesh plug to keep it all together. That mush plug seems to have disintegrated into the stomach and Greg will soon have another surgery in May to rebuild his abdominal wall—after three such failed surgeries. He takes morphine to dull the pain but when it flares up it feels like several knives piercing his stomach.
Amidst all this pain, Greg manages to stay positive by eating healthy, working at the nursery and spending time with his friends and his wife. He is what he calls an "independent" kind of guy and drives to the cancer clinic in Vancouver all by himself with a bucket by his side to vomit if he needed to. He is willing to undergo any trial in the hope that it would benefit him but also other cancer patients down the line.
The key to winning over cancer, he says, is to block any negative thoughts from your mind and to keep it at the back of your mind, not the front.
There is an old picture of a smiling five-year old Jasmine Blake in the living room of their Garibaldi Estates home but her parents, Rick and Lisa Blake, are planning to replace it with a new family picture. There is nothing wrong with the old picture except it's an uneasy reminder of a soul-crushing three-year journey the Blakes were forced to take after their elder daughter was diagnosed with a malignant brain tumour. The cancer hasn't come back and Jasmine would be officially cancer-free in two years but for the Blakes, the cancer will cast a shadow on their life for ever.
The day that Jasmine was diagnosed runs like a movie script in Lisa Blake's mind. Jasmine was at a birthday party when Lisa got a call from the family saying Jasmine was throwing up but when Lisa got there she immediately realised this wasn't just the result of an upset stomach. On the way home, Jasmine let out a terrifying scream and later collapsed on the floor as they prepared to go to the hospital. At the BC Children's Hospital, an MRI scan revealed a tumour the size of a golf ball which had to be operated as soon as possible. After the surgery, the pediatric surgeon advised proton beam radiation for Jasmine at a hospital in Boston.
Rick recalls how shocking that night was in the BC Children's Hospital: An emergency room crammed with patients, the crushing diagnosis, and then questions by nurses on whether they would like to donate Jasmine's organs were she not to survive. As they sit and reflect about Jasmine's journey, they talk about how cancer put everything to test: Rick and Lisa's marriage, their sanity and their ability to survive together as a family. They have managed to pull out together but not without scars that will take years to heal.
"We have to live with this grief. It doesn't just go away," says Lisa.
Rick and Lisa are working to mend their marriage after three years of living more or less like roommates. Lisa calls those three years in their marriage the 'Grand Canyon' in which they isolated themselves and drifted apart. Their personalities only made the chasm grow. Rick is an introvert and doesn't deal with grief by articulating it in precise words but Lisa wanted him to be around and comfort with words in a way that he couldn't even if he felt her grief more than anyone could.  There were times when Rick would simply leave the house at midnight and sit on the spit for hours before summoning the courage to go back home with the realisation that he had to do everything he could to save his marriage and his family. Lisa needed Rick but felt he was trying to 'fix' her grief when she wanted him to talk and just be there. He would retreat after a confrontation widening the gap in their marriage.
"We had travelled to the opposite sides and we didn't know how to build a bridge to find each other again," Lisa says.
The cancer also invaded the life of Finn Blake, their 'warrior son' who had to understand sacrifice at the tender age of seven. There were times he withdrew from him sister as he overcame his fear of losing her but also let her put her head in his lap to watch TV together when she was too tired or sick to eat.
Jasmine's treatment in Boston cost close to $1 million, paid in part by MSP, donations and their own money. When Jasmine was diagnosed, Rick was just about to start a new business but he pulled the money out of it for Jasmine's treatment.
Now they run a deficit every month and they will be in debt for a long time, but their family is their priority.  Rick quit his job as a chef to be with the family even as Lisa finds time to juggle five part-time jobs.
The treatment at Boston was not only a life-saver for Jasmine, but also brought new life into the couple's relationship. The hospital arranged for counselling for the Blakes, empowering them to deal with Jasmine's cancer and its aftereffects on their family. Three years later, life is slowly coming back to normal even though the anxiety and the fear make a comeback every time they go for an MRI scan.
A Christian, Lisa prays every day asking God to heal her daughter. Every time the scan comes out clear she feels like someone is trying to hold her up.
"It's like someone telling me it's okay, that there is nothing to fear and for now, it will be all right," she says.
There is a power above us—the power of God—that watches us. Before you dismiss this as a naive cliché, try calling up Chris Elkins. He's survived a near-fatal car accident, blood cancer, and, recently, brain hemorrhage. For every inexplicable force that is out there to get him, there is a positive cosmic force that he feels around him that protects him. "I wanted to live at all cost," he says, smiling. He says the serenity prayer several times in his mind. It helps him relax and gives him the strength to carry on with his life.
Elkins was only 18 when a car he was in skidded off Highway 99 and its roof collapsed on him, breaking three out of seven vertebras in his neck. After two surgeries and several physio sessions, Elkins was able to walk again although he was diagnosed with Brown-Sequard Syndrome, a rare neurological condition which results in weakness or paralysis on one side of the body.
"I'm a walking miracle," says Elkins smiling.
But the true test of his spirit came in 2001, when his heart palpitation sent him to Squamish General Hospital, and later to Vancouver for a bone marrow biopsy which revealed a grim diagnosis:  myeloid leukemia, a type of cancer that starts in cells that form new blood cells. If he didn't undergo immediate treatment, he had two more weeks to live. Subjected to aggressive chemotherapy, he lost all his hair and had serious allergic reactions that gave him rashes all over his body and increased his weight by as many as 40 pounds.
"I looked like Jabba the Hutt from Star Wars," he said.
A year later, doctors did stem-cell replacement on him. It's used when stem cells or the bone marrow has been damaged by chemotherapy drugs, radiation therapy or cancer.
Elkins knows his body is ruled by his own and the cosmic spirit.  It has its life written down somewhere else and it draws it sustenance from a higher source. He is a living example of his belief.