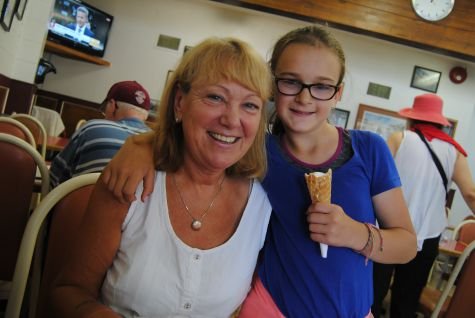 By Gagandeep Ghuman
Published: Sept 13, 2015
IT'S only an hour of her life but volunteering for Big Brother and Big Sister has been one of the most rewarding experiences of Christina Musselwhite's life. "You may wonder what can be accomplished in one hour a week with a child. I'll tell you when I see how happy the little buddy is when I arrive at the classroom door and immediately start chatting as we walk down the hall together, I know it's worthwhile," she says.
Big Brothers and Big Sisters in the Sea to Sky Corridor offers a variety of mentoring programs in Squamish, matching a child aged 7–14 with an adult volunteer based on values and interests. In 2002, Musselwhite became self-employed and wanted to give back to the community. In the last 14 years, she has been a big buddy for four different little buddies in four different local schools. She spends one hour each week with the kids teaching art and craft or playing board games. She gives them ideas to choose from and they especially enjoy teaching her something new, be it a new card game or a ball game in the playground or how to do proper handwriting.
The idea behind the program is to provide a mentor and help child succeed in school and in life. Mentors such as Musselwhite serve as role models, teaching by example the importance of giving, of staying in school and respecting family, peers and community.
Spending time with the kids, listening to them and playing with them empower the children and make them feel cared for, Musselwhite says. And it's extremely rewarding to see a glint of excitement in their eyes when they see you are there to spend an hour with them. Musselwhite says teachers have told her the little buddies never miss school on the day she is supposed to be meeting them.
"I bumped into one of my old little buddies and she just came charging to tell me what they have been doing in their life," she said.
Big Buddies watch with satisfaction as they see their little buddies grow into adulthood and contributing members of society. Local realtor Jack Fowler first started volunteering 32 years ago when he didn't have any kids of his own but found volunteering with Big Brother and Big Sisters a great way to give back to the community. His little buddy is now a grown-up man and works in the IT industry in London, England, and when he's back in Squamish, he will try his best to meet Jack.
"It's just astounding the impact you can have on someone by just being with them. And you don't need to have any psychology degrees. All you have to do is just sit and show them that they have a special friend and they can talk about anything if they want to," Fowler said.
Besides volunteering as a Big Buddy, Fowler has also served on the board of directors of the organisation, canvassing people to give back to the community by spending an hour mentoring a local kid. As a Big Buddy, Fowler would often take his little buddies fishing, hiking, and bowling and get them involved in hockey and other sports. He also liked to play a game of chess and backgammon, both fitting metaphors for decision-making in life. "The idea is to teach them the values of hard work, discipline and the courage to take decisions in life," he says.
Fowler's most memorable experience was mentoring an autistic kid who was very quiet and wouldn't raise his eyes. But gradually Jack encouraged him to look up and say 'hello' and 'thanks'. Being a mentor to a young person only takes one hour from your time, but it's one of the most rewarding things he has done. In many cases, he wasn't even sure he was making a difference until told so by the parents and the teachers. "The best part is in knowing that you have actually helped someone and if you can help make even one kid a better life choice, then that is incredibly satisfying," he says.
Carlee Stecyk, mentoring coordinator for the program, says there are several school-based programs they offer that require only one hour each week from both teens and adult volunteers. Some of these programs include group sports mentoring program, Go Girls and academic mentoring program that specifically utilizes Quest university students.
Stecyk says a recent study conducted by the Boston Consulting Group found that children with mentors were more likely to donate and volunteer as adults, bringing social responsibility to full circle. "Many of the children in our programs face some form of adversity which could put them at risk of straying off the right path. Our core purpose is to place mentors in those children's lives so they have the confidence to reach their full potential," she said.