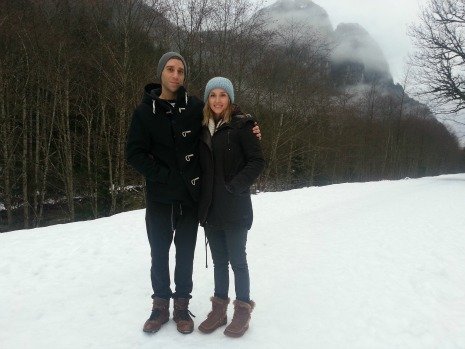 By Gagandeep Ghuman
Published: Jan 24, 2016
AS THEY finish their brief stroll along the Stawamus trail, Gabriel Shamash and Jasmin Parkin are elated at having discovered a new trail a few minutes from their new home in Valleycliffe. "Wow, this is beautiful, I'm going to be back here soon," says Jasmin as she looks up at the snow-laden Squamish Chief.
The couple moved from Vancouver in November as they followed their dream — a yoga studio where they could create a wellness collective for the community and create a gathering space to heal through the ancient practice. The dream finds its manifestation in The North Yoga on Commercial Place. For them, Squamish was the ideal place to realise this dream.
 Shamash grew up in UBC on the edge of the forest and swam in the ocean almost every day, he says, smiling. Parkin grew up in a hippie commune called Hermitage on Vancouver Island. She remembers a very guerilla style of living. Her parents had used salvaged wood to build the house. She moved to Vancouver a few years ago and immersed herself in music, learning Jazz at VCC and joining the indie-rock band called The Mother Mother. The band performed at the Squamish Live music festival in 2010. She recalls the energy with love and admiration for the town. "It was so beautiful. I didn't know it would become so big in a few years. I enjoyed exploring the Squamish downtown and it was a beautiful experience," she said.
If she came to Squamish as a visitor for the first time, Parkin is now moving here as a yoga teacher—and it's a journey that started from her music. After years of practising the piano and doing various jobs that stressed her wrists and hands, she began to realize she needed an exercise that strengthened her muscles and joints. She started devoting herself to yoga in 2011, and found out that her true love and passion was for Vinyasa Yoga. As a yoga teacher, she hopes to help others find their own path into yoga, healing, and physical freedom: to accompany them as the physical and spiritual sides of the practice come together in their lives, as they did in hers. 
It wasn't hard for Shamash to convince Parkin that Squamish would be ideal for them to realise their dream of opening a yoga business. The nature, particularly the trails, reminds her of growing up on the island, but she loves that she is close enough to Vancouver to play with the band and experience the city if she feels like it. "The forest, the nature and the scenery is so familiar. I feel a special kinship to nature and Squamish reminds me of that feeling of being drawn to nature," she says.
 It's the same emotion that Shamash feels for Squamish. Every morning, he likes to do yoga on the porch, looking up to the Squamish Chief Mountain. He grew up playing a lot of sports which brought him to a yoga class in Vancouver. A friend took him to the class and he soon realised he was intuitively drawn to the harmony of movement and breath that the techniques required.
Shamash started to teach yoga and commuted to Squamish for quite some time until an opportunity to start his own yoga studio came up. He remembers he would often stop at Shannon Falls while on his way to Vancouver and fill up the fresh water from the Shannon Falls to use at his home in the city. When an opportunity came to buy and rebrand the existing Bikram Yoga, he talked to Parkin and both decided to make the move to Squamish.
 What he likes about Squamish is the nature but also the fact that it's becoming more diverse and has an eclectic mix of people. "There is everything we need here. The people and the nature will give us the chance to live a deep, fulfilling life in Squamish," he says.     
  There is still much to explore here for them but they love their neighbourhood and plan to invite their friends to come up to Squamish to enjoy the nature and the town's cool, laid-back vibe.
 "We plan to stay here for a long time. I'm going to bring all my friends from Vancouver to come and discover this beautiful town that is our home now," Shamash says.