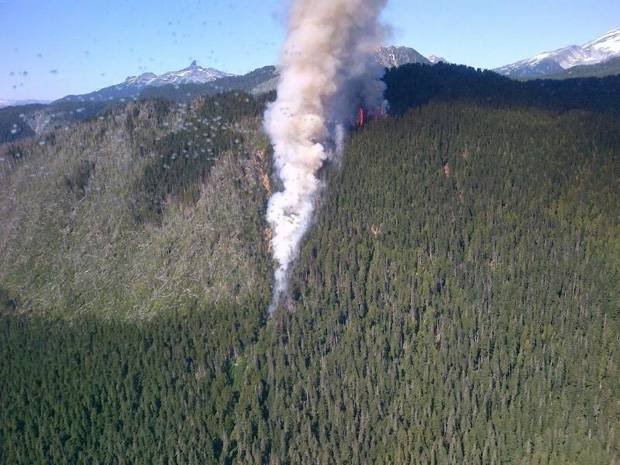 Fire suppression crews have been working diligently throughout the day to establish hose lays around the Mamquam wildfire. Air tanker action this morning and helicopter bucketing activities throughout the day has aided the crews in cooling the fire and allowing for creation of fireguards.
In addition to three helicopters, there are sixteen firefighters, one fire cause investigator, one Forest Officer, two danger tree fallers and one excavator that continue to work the fire.
This area is considered hazardous and the public is requested to stay away from the firefighting response area. While the Mamquam and Skookumby Forest Service Roads remain open, the BC Wildfire Service will be deploying security personnel to those road intersections into the fire site. These checkpoints are necessary to ensure our fire crew's safety and the safety of the public when accessing recreational activities in the area.
A 3.5 hectare wildfire is currently "burning out of control" 13 kilometres east of Squamish. The fire is burning in slash in a cut-block and is currently being supported by both fixed wing air tankers and helicopters.
(In fire control lingo 'Out of Control' is a wildfire that is not responding  (or only responding on a limited basis) to suppression action.)
The small community of Ring Road, a power station and hiking trailhead are in the vicinity but are not threatened at this time, although BC Wildfire Service staff are monitoring closely.
Resources on this fire include six initial attack personnel, 10 contract firefighters, a Fire Investigator, a Forest Officer, two danger tree fallers and one excavator and three helicopters.
To report a wildfire or open burning violation, call 1 800 663-5555 toll-free or *5555 on a cell phone.
For up-to-date information on current wildfire activity, burning restrictions, road closures and air quality advisories, call 1 888 3-FOREST or visit: www.bcwildfire.ca