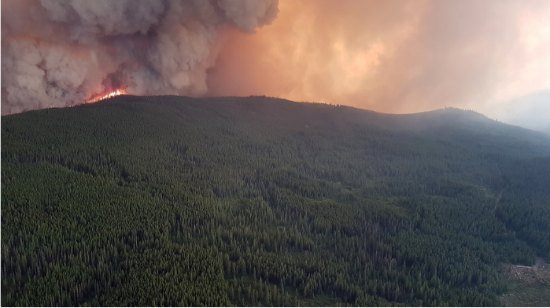 This year will go down in the history of the province as one of the worst years for wildfires.
With over 500 fires burning across the province, the year 2018 is the fourth-largest fire season since 1950, data from BC Wildfire Service reveals.
In fact, four of the 11 worst fire seasons since 1950 have taken place in the last five years.
Wildfires have also burned close to 400,000 hectares of British Columbia, which is a land area bigger than Metro Vancouver, according to numbers obtained by CBC.
CBC reported that more than two-thirds of the fires were caused by lightning. This year, lightning has already sparked more than 1,300 wildfires in B.C., more than any year since 2009.
That number will likely increase as the hot and dry conditions persists, with the risk of thunderstorms in some parts of the province.
While the number of human-caused fires has generally been on the decline, people were still responsible for starting more than 400 fires this year, CBC recently reported.
The British Columbia government has declared a provincial state of emergency to support the province wide response to the ongoing wildfire situation.
As of Aug. 14, there were 566 wildfires burning in B.C., with 29 evacuation orders affecting approximately 3,050 people (1,521 properties), in addition to 48 evacuation alerts impacting approximately 18,720 people (9,359 properties).
Over 3000 people are supporting wildfire responses.
Meanwhile, the B.C. Wildfire Service has issued an "extreme fire behaviour" warning for the Shovel Lake fire burning west of Prince George.
The service says it has notified the regional District of Bulkley-Nechako of that possibility late Thursday afternoon due to high winds expected over the next 24 hours.