BC Wildfire Service personnel are making slow yet steady progress on wildfires, despite challenging weather conditions and heightened fire danger ratings in the region, according to the latest update provided by the service.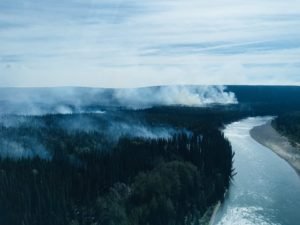 Of the 324 wildfires reported in the Southeast region of BC, 177 have been declared out, 28 are under control, 24 are being held and 95 remain classified as out of control.
This means that less than 30 per cent of the wildfires that started in the Southeast Fire Centre during this one-month period remain out of control.
Of those fires, 34 are currently in modified response and 38 are monitor-only fires.
"Considering the heightened wildfire activity experienced in the Southeast Fire Centre this past month, the progress that has been made on these fires is significant. Crews continue to work extremely hard toward suppressing the remaining fires," said BC Wildfire Service.
To better understand some of the response strategies used in wildfire management, here are some definitions:
Full Response – Sustained
This refers to a wildfire that requires aggressive, sustained suppression action until the fire is declared out. Such a wildfire is not expected to "be held" in the first 72 hours after it is detected.
Full Response – Modified
A modified response fire is managed using a combination of suppression techniques. These include direct and indirect attack, and monitoring the fire to steer, contain or otherwise manage fire activity within a predetermined perimeter, so that costs and/or damage are minimized and/or benefits from the fire are maximized.
Full Response – Monitor-Only
This is a wildfire that is observed and assessed to determine an appropriate response that will minimize social disruption and/or significant impacts on values and resources, while also achieving beneficial ecological, economic or resource management objectives.
To report a wildfire or open burning violation, call 1 800 663-5555 toll-free or *5555 on a cellphone.
For the latest information on current wildfire activity, burning restrictions, road closures and air quality advisories, visit: http://www.bcwildfire.ca