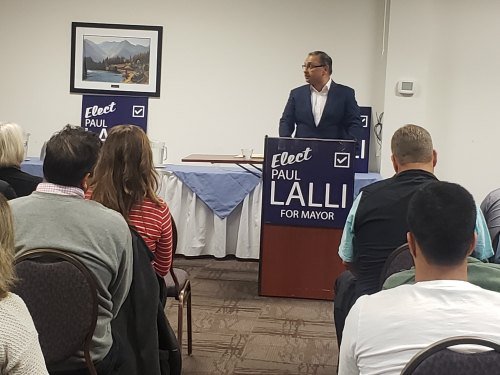 By Gagandeep Ghuman
Published: September 11, 2018
Long-time Squamish resident and four-time District of Squamish councillor announced he would be seeking the Mayoral seat in the upcoming elections in October.
He made the announcement in front of his supporters, friends and family members at the Sea to Sky Hotel.
Lalli said he wants Squamish to be family friendly, safe, affordable community, one that is balanced and sustainable.
"I will bring the council together to work as a team to deliver that vision. I have deep community ties, understand what families need and have 10 years of local government experience," he said.
Lalli was elected to council when he was 24 and has been on the council for four terms.
He is the past chair of the Squamish Lilloeet Regional District and the past chair of the Sea to Sky Hospital District and BC Assemement Authority review panel.
He was also the past director of the Squamish Chamber of Commerce, and is at present a director on the board of the Squamish Hospital Foundation.
As the father of four school-going children, Lalli said he understand the importance of family and the need for services for families.
He plans to initiate responsible investments for service upgrades as well as amenities at the Brennan Park Recreation Centre.
He wants to keep tax increases to a minimum as well as create affordable programs for young families, including free swim lessons for K to G2 students.
On the job and economy front, he said he would negotiate a winning tax deal with WLNG, invest in aging infrastructure, foster a pro-investment climate, and expedite employment-based development permits, etc.
He also plans to create efficiencies at the municipal hall, improve working relationship with Squamish Nation and ensure that Squamish has a proper say in the regional growth strategy.
Affordable housing, increasing rental supply and senior-oriented housing, as well as expanding ride-sharing opportunities and taking action to ensure fair fuel prices for Squamish are among other key campaign platforms.
You can find more about him and his platform at paullalli.com