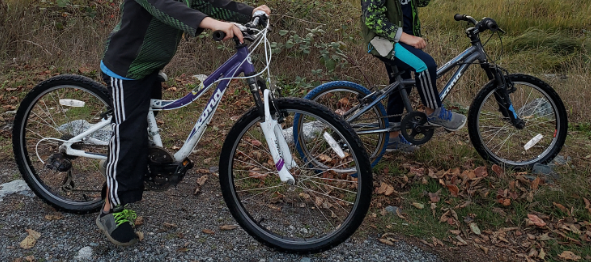 Squamish RCMP is seeking information on theft of two children's bikes from Downtown Squamish.
On Friday, November 16, at 9:37 am Squamish RCMP received a complaint regarding two children's mountain bikes that had been stolen from behind the Howe Sound Women's Centre on Third Avenue in Downtown Squamish.
The bikes are described as: 24″ Kona mountain bike, white and purple the second bike is described as a 20″ Kona mountain bike, black and blue with a blue tire on the back and a black one on the front.
Dodge fails to stop
Squamish RCMP is also seeking information on a vehicle that failed to stop.
On Sunday, November 18th, at 3:20 pm, Squamish RCMP were checking a vehicle at Highway 99 and Garibaldi Way and noted the registered owner of the vehicle was prohibited from driving.
Police tried to stop the vehicle, which pulled over but then sped away, almost hitting several cars.
Police have been unable to locate the vehicle. Police are investigating the driver for Dangerous Operation of a Motor Vehicle, Fail to Stop, and other offences.
Anyone with any information regarding the above files are asked to contact the Squamish RCMP at 604-892-6100 or contact Crimestoppers at 1-800-222-TIPS, or go to www.solvecrime.ca