By Gagandeep Ghuman
Published: Nov. 20, 2018
District of Squamish has given a go-ahead to a 100 per cent rental apartment building in Squamish.
Railtown, a new mixed-use residential and commercial development in the Northyards in Squamish, received its development permit from the outgoing council in October.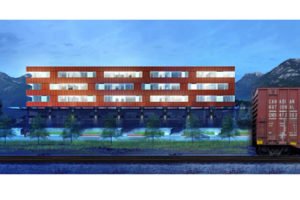 The project by Team Target proposes a 5-storey mixed use residential and commercial building, located at 39660 Government Road, just east of West Coast Railway Park.
The applicant is proposing a 100 % purpose-built rental in perpetuity. There will be 27 apartments, a mix of studio, one and two-bedroom apartment on three levels of the building.
Along with 27 purpose-built rental residential units, the developers are also proposing 13,218 square feet of commercial space.
As much as 15 per cent of lot area is being provided as an open space, which will have exercise equipment, retained wildlife trees, picnic tables, vegetable planters and log benches.
The staff was supportive for the mix of housing and commercial development being proposed.
"With two levels of dedicated employment space on the ground level and mezzanine second floor, this application supports the goal of preserving and creating new employment space in Squamish, promoting employment opportunities for residents to work within Squamish," the staff noted in a report to council.
The commitment to provide 100 per cent rental units also addresses the housing gap in the community, the staff said.
Last year, a committee recommended to council that projects that are 100 per cent purpose built-rentals should be given priority.