Get ready, Squamish.
An exciting deal is coming your way. The newly opened Dairy Queen is celebrating its grand opening on July 20 with an amazing deal.
The first 100 customers who buy a ten inch or larger cake will get a free blizzard every week for a year. There will be discounts on burgers and parfaits and other items in the store as well.
The store will open at 8 am, and people camping overnight aren't unheard of at Dairy Queen grand openings, says Ranvir Arora, the young owner of the restaurant.
"We expect to sell more than 100 cakes in two hours or even less than that. It is a great deal. You get a blizzard free for an entire year. What more could you ask for," he says, smiling.
Arora has a lot to smile these days. He knew people were eager to see Dairy Queen opening in Squamish. Last week was an exciting reminder of just how much the community was looking forward to it.
"We had a pretty big line up here. It was just overwhelming, and amazing. It was great to see so many people excited and having their first cones and blizzards. Each and every fan told us how excited they were to be here and how much they love DQ. The best part is to watch people smiling and enjoying at the restaurant," he says.
"It has been only a few days since we open and I already have 100's of happy stories from our fans like little kids wishing they could live at the restaurant. It warms my heart to see kids getting so excited and telling me they love visiting the restaurant and never want to leave, Ranvir noted.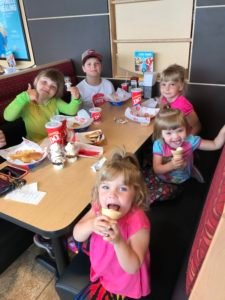 It was a record breaking opening, he says, but the best part was seeing the reaction of kids when they flipped the blizzard to realise it doesn't fall out. "The upside down is something that really shocks kids, and it is priceless to see that look on their face. We have been having a lot of that here with kids eagerly waiting for their server to flip the blizzard and some refer to this as magic at Dairy Queen."
Local Sara Constantin who worked in the old Dairy Queen in Squamish made sure to visit the new one the very first day. "Dairy Queen was a huge part of my childhood, and ​I'm very impressed with DQ's customer service on such a busy first day. They handled the busy day/evening like champs especially with their young rockstar staff," she said.
Constantin says many other locals conversing were incredibly impressed with the customer service offered by the staff. "Everyone has been waiting for a very long time for DQ to open and we were not disappointed," she said.
Positive reactions and comments such as these have been coming in every day and Arora says that will make him strive for better customer service experience. He is also looking forward to be being a part of the community, and is committed to be an active member of the community as a business owner and not just as a corporate franchisee.
He has signed up as a platinum sponsor for the Howe Sound Minor Ball Association for the next four years and plans to talk to other local organisations as well.
"I have been really touched by how much love this amazing community has given me and I absolutely plan to return it back. How about we start that with the grand opening and free blizzards," he says, smiling.
                                                                                                                                                (sponsored content)