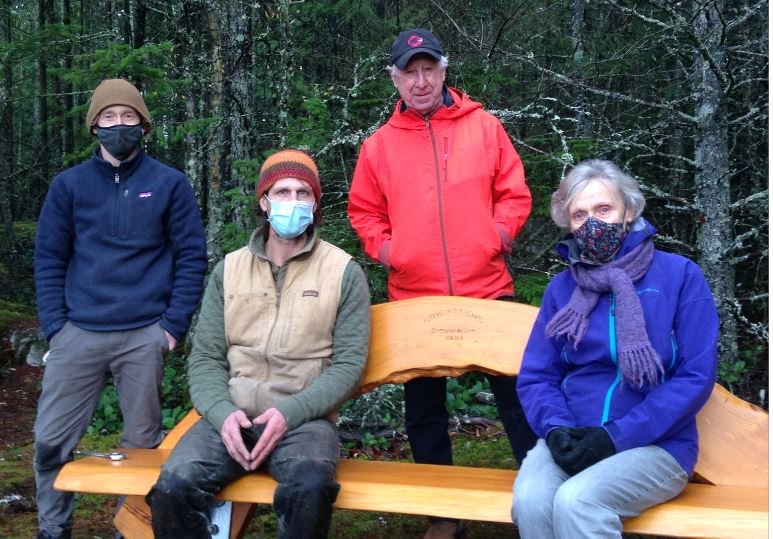 A group of Squamish residents recently hiked up the Smoke Bluffs Parks to witness the installation of a bench in memory of Chris McCrum.
A dedicated volunteer, trail builder and a SORCA member, Chris passed away in an avalanche on January 3 last year.
He was pivotal in the development of Smoke Bluffs Park and worked extensively over the last decade on the infrastructure in the park.
Brian Moorhead, past chair and member of the Smoke Bluffs Parks Committee, was among those who hiked to install the bench at the summit of the Upper Loop Trail in the Smoke Bluffs Park.
Accompanying him were people from the Squamish Access Society and Squamish Trails Society, including John Harvey, Mike Nelson, as well as the bench builder, Todd Nichols, and Ulrika McCrum, mother of Chris McCrum.
Moorhead said the bench is a unique design by Todd Nichols Contracting, who has used natural yellow cedar elements in creating the bench.
Moorhead first met McCrum through John Harvey in 2006 when the committee hired Chris as a park contractor for a trail project.
"In the ensuing years I came to rely on him for advice and support with many park and advocacy projects. He was well known for his generosity of time and material support to many outdoor groups in the community," Moorhead said.
Matt Parker of the Squamish Trails Society said Chris was a 'true craftsman' and is missed tremendously by his friends.
He fondly recalled the time when he first met Chris.
"I had recently moved to Squamish (Chris had grown up here) and was interested in helping to improve the trails upon which we recreated. For someone so young, he was immensely talented, strong and generous with his time. He served as the SORCA trails director and trail maintenance coordinator for quite some years. He was a true craftsman," Parker said.
"If you've hiked the Loop Trail in Smoke Bluffs Park, The Backside Trail of the Chief, the Coho Park Trail in Garibaldi Estates or ridden the narrow Tracks from Hell bridge near Alice Lake or any one of over 100 trails in and around Squamish, you have crossed paths with Chris's local work," he added.
Matt said Chris worked all around the province as a park contractor.
"I recall one situation a few years back when Chris was pulled from a local project to fly up to Smithers to help a friend who was dealing with a flood situation. Chris was the type of person you could have met once twenty years ago and to this day refer to him as a friend."