A new program in Downtown Squamish is looking for volunteers to reach out and help the vulnerable population in the community's core.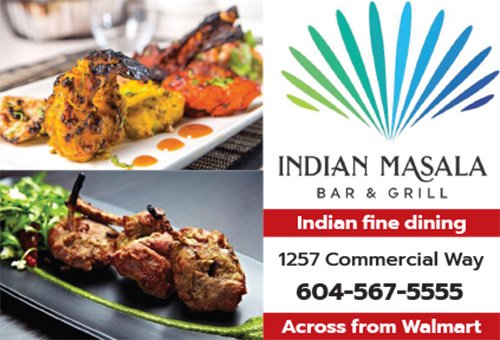 The volunteers will be part of a mobile team that walk around downtown core, interact with the vulnerable population and build trusts with empathy and compassion. The volunteers will walk around the downtown neighbourhood, meet people and seek out those in need of assistance.
They will also pass out survival and harm-reduction supplies to those that need them, check in with people to see how they're doing, and collect observations and feedback from the people they meet.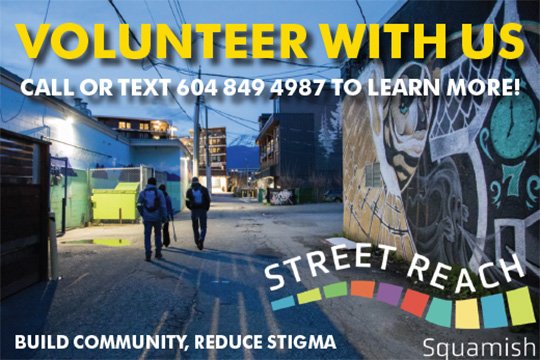 No previous experience is necessary, and training will be provided, including First Aid and Naloxone training. The program, supported by the Squamish Helping Hands, District of Squamish and Squamish Nation, has been operating since February but is looking to add more volunteers.
Jonathan Hand is the manager of the program. "We have some areas we frequent, around Third Avenue, where we talk to those who are homeless, build relationships, remove fear and talk openly about substance abuse, trauma and mental health," Hand says.
Kylla Burril, the street reach coordinator, said the outreach team always works in a team of two, and has support of the local police and the program team, if needed.
"Safety is paramount for our volunteers. We have teams working on Monday, Wednesday, and Friday, from 6 pm to 9 pm. We want to be there more and have a small network of committed volunteers," she says.
The shifts are 3-hours in length, from 6 pm to 9  pm, with a flexible self sign-up schedule, and volunteers are needed for a minimum of 3 hours per month. To volunteer, call or text 604-849-4987.