District of Squamish recently named Bethel Lands Corporation as one of developers for the Oceanfront Project, but missing from the press release was the full extent of the developer's past relationship with SODC.

Documents reveal Michael Hutchison, the principal behind Bethel Lands Corp., was not only the vice-chair of SODC two years ago, he also brought forward an offer to help SODC with its financing. In return, he asked for a majority share on the SODC board itself and a first right to refusal on the land.

Present SODC directors, Bill McNeney, Gregg Smyth, and Matt Fraser, supported the proposal and took it to council, despite knowing its acceptance would give control of a public corporation to a private developer.  

The present SODC vice-chair, mayor and councillors are silent about the 2011 proposal, refusing to acknowledge its presence, let alone discuss it openly.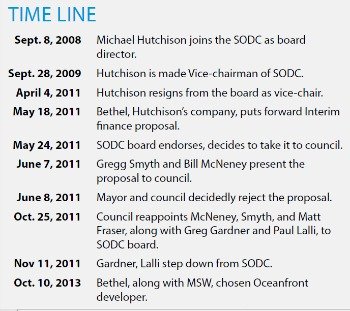 ——
By Gagandeep Ghuman
Published: Nov. 2, 2013
The year 2010 was an anxious time for Squamish Oceanfront Development Corporation (SODC).
As a guarantor of the debt, the district couldn't borrow more money from the bank without affecting its borrowing capacity.
More delays seemed in store for the Oceanfront Park. Financing was getting to be a challenge, and the community was getting impatient as the debt piled up.
In this atmosphere of uncertainty, one man offered to come to SODC's rescue.
"What advantage did being on the board give me? Nothing, other than a clear understanding of what the community's expectation for this development was." Michael Hutchison
He knew the financial travails of SODC very well; he was, after all, the vice-chairman of the SODC board and the head of its finance committee.
That man's name was Michael Hutchison, once the vice-chairman of SODC and the principal of Bethel Lands Corporation Ltd, now one of the companies chosen to develop prime Oceanfront lands.
His offer: Bethel Interim Financing (May 25, 2011)
Mayor Rob Kirkham, SODC vice-chair Gregg Smyth, and councilors don't even want to acknowledge that Bethel made an offer two years ago.
(To read an interview with Mayor and SODC vice-chair, please pick up the print copy of the Reporter from these locations)
In fact, they flatly deny any knowledge of this.
But documents show Hutchison's previous proposal found great support among some SODC members, even though its acceptance would have meant losing control of a public corporation to a private developer.
Documents reveal he offered to lend anwhere from $7-9 million to SODC. In return, he demanded a majority control over the SODC board along with a first right of refusal on the land.
He might have hinted at the deal verbally while still on the board. But he stepped down and came back a week later with a more serious, and this time, a written offer, as shown below.
 (PLEASE CLICK ON PICTURES TO ENLARGE)
Michael Hutchison refused to say whether he made an offer two years ago, citing legal issues around information disclosure.
But he strongly rejected any notion that he might have had any inside information.
He said there were 250 plus consultants and 75 board members and all the files were provided to anyone who wanted them.
"What advantage did being on the board give me? Nothing, other than a clear understanding of what the community's expectation for this development was," he said.
It's time to look ahead, he added.
"I'm sick of hearing from consultant's reports…we'd just like to get to work here," he said.
Council rejects the offer
Bethel's unsolicited proposal of May 2011 created divisions in the SODC board that sharpened over time.
One of the board members Tom Bruusgaard said he raised his concern over the unsolicited proposal. He was let go from the board about five months later in Oct. 2011.
In Oct. 2011, council voted Bruusgaard out, but three SODC directors—Bill McNeney, Gregg Smyth, and Matt Fraser—were reappointed to the board.
These three were sympathetic to Bethel's proposal, even if they had their doubts.
When Matt Fraser suggested, for example, that the board control is lost with the Bethel proposal, Smyth argued that this proposal would help SODC keep the momentum going.
SODC chair Bill McNeney was in full support, arguing that this deal gave SODC a chance at success.
He felt that if this deal was delayed, 'the pieces won't get picked up again'. This was a way, he argued, to 'keep SODC in the game and meet timelines'.
The Bethel deal, they told the council, could help reduce the district's loan guarantee and move forward the Oceanfront park.
Even though the deal would have effectively given the board's control to Bethel, both men repeatedly emphasized this was 'clearly an interim financing agreement, not a partnership.'
"Bethel is a reputable and qualified Squamish community member who is committed to seeing the successful completion of the SODC Business Plan," they told the council in 2011.
Despite the strong recommendation to the council, the then Mayor Greg Gardner and the council rejected the deal.
The council vote was unanimous in its rejection; in fact the staff said losing board control would mean the corporation could become taxable since it would be comprised of private directors.
In Oct. 2011, four months after the SODC brought forward the Bethel deal, council appointed Greg Gardner and Paul Lalli were appointed to the board.
"The decision to select the final proponent was made by Council, not SODC. His previous time as a director did not factor into the decision." Coun. Doug Race
They later resigned sensing public opposition to their appointment.
Unanswered questions
SODC vice-chair, Mayor Rob Kirkham, and councilors chose to respond in monosyllables when asked about Bethel's previous offer.
SODC's vice-chair Gregg Smyth refused to even say whether he was aware of any dealings Michael Hutchison had with the SODC besides his role as a director.
He had a one-word answer: 'No' (See interview in print paper)
No, No, and No also came from Mayor Kirkham, Coun. Bryan Raiser, Coun. Patricia Heintzman, and Susan Chapelle when asked if they were aware of any Bethel dealings with SODC.
Coun. Doug Race said he wasn't sure what "insider information "might have existed at all."
Despite Coun. Race's reassurances, several questions remain unanswered, and here they are:
For Michael Hutchison:
Why did you resign from SODC? Why did you want to help the SODC in 2011? Why did you want majority control over SODC board?
What are you proposing now?
For SODC directors:
Why are you so reluctant to even acknowledge Bethel's previous proposal, let alone discuss it?
Why did the present directors support the 2011 proposal, despite the knowledge that board control would be lost to a private developer?
Why didn't you disclose the full extent of Hutchison's involvement to the community?
For Mayor and council:
Why did you reject Hutchison's earlier proposal?
How is his present offer different from the previous proposal?
Did you ever delay the SODC project that emboldened a private developer like Hutchison to sense an opportunity to control a public corporation?  
Who are the other companies who responded to the RFP for Oceanfront lands in 2013?
What are their names and their proposals? Why can't you disclose their names ?