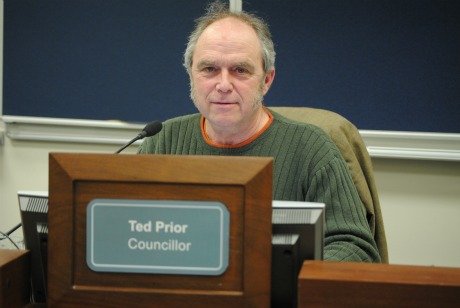 Coun. Ted Prior ran in 2009 on the promise of a renewed waterfront, diking, economic development, and better governance. He speaks about his first stint as a councillor and shares his views on SODC, LNG, and other issues.
You have spoken about reservations with SODC?
The SODC has been in works for a long time, and I was never in support of past board of director for the bidding process. There are clauses here that last for 20 years, the DCC, and the CCC, and it will be interesting to see how that pans out.  
Has the deal been transparent?
I don't think SODC has been very transparent, as you know I was taken out of the room and threatened legal action by Coun. Doug Race. I got my opinion that I could have stayed in the room, but to pursue that would have been very costly. When we have all the mayor and councillors putting themselves on the board, it looked to me like they were setting up for something. So, I was opposed to that. When you have a past director vying for it, it seems to me there is a conflict here.
I asked to see the minutes of the meeting for SODC and I was told I will have to go through a FOI. I wish I got to know more, but I didn't, I got ran out of the room. Considering I was five years on the board, I got good knowledge of the site. It was a loss to the community not being able to take part in it. It was a unanimous thinking I was in conflict, and I came in with the legal opinion saying I wasn't. My lawyer said I could pursue it, but would cost me 40 thousand.
What are your views on LNG?
I am not there yet if I support it or not. We have a committee doing that, but the fracking makes me really nervous. The issues about the air quality and the water quality and you hear about the warmed up water that will be chlorinated and put into the sound…that makes me nervous. I am waiting for the committee and come back and they can ask questions and they have been funded. Also, there is the tourism and the economic impact analyses that are supposed to be done.
I know the majority of the kite boarders are scared, and we have whales and orcas coming back and I wouldn't want to risk losing any of that. Yes we need more taxes and more jobs, but Squamish is taking off. We were on the cover of the rolling stone magazine and home sales are up, we have a thriving tech and film business.
You were concerned earlier that Mayor Rob Kirkham wasn't sharing information? Is that still the case?
Yes, he doesn't. We don't get reports on any of the meetings that he attends. It made me unhappy because I feel like I could have had a lot more input into how the town was moving forward. It took two and half years to really understand city hall, the dynamic and the people. Anyone coming in new and think they can just walk in, no it takes a while.
Do you plan to run again?
I am considering it. It took two and half years to really understand city hall, the dynamic and the people. Anyone coming in new thinks they can just walk in, but it takes a while.
Does the present council work together well?
I actually think we have a pretty good council, we build on each other. We haven't done much for economic development. The thrill for me is to realize how we help some of the businesses by taking it through economic development. I feel our economic development arm isn't aggressive enough in my opinion, we answer a lot of phone calls, and we put a lot of time into expansion and retention, lots of interview, compiling stats, and I like the idea of having an aggressive economic development arm that looks for things and tries to pull them in. I think we are too bureaucratic. I think it would be good to take it from the bureaucracy and give it to a board and then they could may be direct it to be more aggressive. We have a lot of development comes in and leaves before it gets to the planning process.
What is the problem with bureaucracy?
When I see a problem, I would like to deal with it but then it has to go through a report, a study that goes through all that process, and staff having a meeting, they discuss it and they do a report and bring it back to council. It just takes a lot of time for the staff, I think it could be something that could be deal with more aggressively. This is where I talk about experience, now I can see where some of the problems are, it's the inability for the bureaucracy to seize the moment. We have to talk to our consultants, there was the expansion and retention in our economic development strategy, but where are the measurable.
How has this one year been for you?
I didn't know much, but now I am equal. I am more patient now. I can listen to someone's problems, no problem. I mean we have people who complain about everything…we get blamed for not putting this information, and we post information all the time, we have huge discussions about topics and people will come and say, why don't you do this and why don't you do that. I helped getting council meetings archives that would be something I'd take partial credit for. We came up with a tax incentive for commercial and now we are doing pretty well. I like how we build on each other conversations, and we are mature as a council now compared to in the beginning.