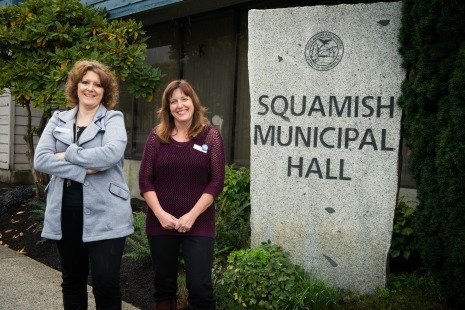 By Gagandeep Ghuman
Published: Nov 5, 2014
For voters, an election day can begin and end within an hour. But for district employees Robin Arthurs and Charlene Pawluk, the election day can extend up to 14 hours, sometimes even to 20.
"Setting up the machines and the voting booths and coordinating with everyone, it can easily be a 20 hour day," says Pawluk.
Pawluk is the manager of legislative services and the deputy chief election officer while Arthurs is general manager for corporate services and the chief election officer in Squamish.
For both, Nov 15 will be a culmination of months of bureaucratic work that starts almost a year before the election day. On the day of the voting, they will keep an eye on the voting booth, ensure that only one person is allowed in the voting booth and find the time in all of this to ensure people aren't campaigning in the parking lot or the lobby.
They are also the only ones who can spoil a ballot. Arthurs joined the district in 1999 as a clerk and has since helped conduct eight local elections, three as a chief election officer. Corinne Lonsdale, she recalls, was elected the mayor when she had just started working at the district. Since then, she has seen more than a few mayors and councillors come and go.
Pawluk has worked at the district for 17 years and first served as the deputy chief election officer in 2011. It's a time-consuming, repetitive, but an important process which they anchor.
Regular office work is constantly interrupted by candidates looking for information. Pawluk and Arthurs patiently explain to candidates the nitty-gritty of filling out the nomination forms and inform
them of new election campaign rules.
The electoral process machine starts whirring a year before elections, when the district puts out a RFP to get voting machines. A mountain of paper work follows: Putting the nomination packages together, compiling voter information, preparing the voters list, and sending it to Elections BC.
"There is usually a lot of paper work involved after we send out the RFPs for machines," says Pawluk.
They are not alone in this, however. As many as 45 volunteers and district staff also help with the process. They pitch in with advance voting, taking the ballots to seniors housing and hospitals. The election can cost up to $44,000. Anywhere from 450 to 600 new voters are added to the voters list every election. There are 12, 279 registered voters for this election.
Arthurs and Pawluk have another goal they like to pursue, which is to encourage people to vote on Nov 15. Organising the election process they say affirms their belief in democracy and the electoral process.
"We are lucky to live in a place where you have the ability to vote in a safe way," says Pawluk.
Arthurs agrees.
"It gives us a certain faith in the democratic process, even when there
are times it keeps us on our toes."