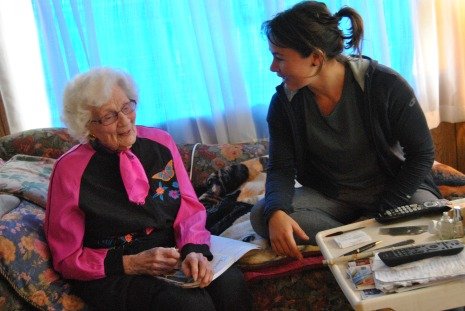 By Gagandeep Ghuman
Published: May 27, 2015
MAYBE because of her age or ever-pleasant demeanour, Carole Knight finds people are always willing to lend her help. The other day at Save On Foods, a man helped her with packing her groceries and even paid for them. At restaurants, she says no one asks her to pay.
"I've never had such kindness in my life—I call Squamish my paradise," she says.
Knight is about to know more kindness from the people of Squamish. She has enrolled for Better at Home, a BC-wide program that helps seniors with simple day-to-day tasks so they continue to live independently in their own homes and remain connected to their communities.
Though a BC wide program, Better at Home is administered locally by Sea to Sky Community Services Society. It's anchored by volunteers such as Michelle Leblanc and Karla Hetherington.
Originally from Winnipeg, Knight came to Squamish eight year ago with her son. She now lives alone with her cat, Coco. With the exception of a few friends, she says, she is "truly alone". She has a granddaughter who is busy with her studies and can't come to stay with her. "My hands are not good anymore. I need someone to help me," she says.
Help now comes to her in Michelle Leblanc, a local volunteer who signed up with Better at Home to help Knight with household chores.
On her first visit to Knight's home, Leblanc worked at Knight's garden. She chose to volunteer for this program because she knows there is a need for such a service. She has been a researcher with the Canadian Longitudinal Study on Aging and understands that social isolation is a challenge for seniors. She is also working towards a Post-Bachelor Diploma in Gerontology at SFU and has interviewed seniors as part of other research programs at Dalhousie.
Leblanc says her research made her reflect a lot on seniors and their specific needs in communities across Canada, considering that Canada is in the middle of a big democratic shift with an aging population.
For Leblanc, the big aim of her volunteer experience is to help improve the quality of life for seniors living in Squamish and, more importantly, help them 'age in place', which means giving them an opportunity to age where they live. As a volunteer, she has learned a lot about herself and how to grow old happily.
"You have no idea how excited I am," says Karla Hetherington, another volunteer,  and smiles. She had been told she would be paired with a senior she knew from her restaurant. "She's so sweet, I'm really excited to meet her," she says. In the last six months, she has read novels to seniors, helped them with groceries, and taken them to medical appointments in the city.
Hetherington also sees them for friendly visits which could involve reading a book, playing a card game, or simply talking. 
Doing selfless service for the seniors is a way for Hetherington to feel more connected to her own 93-year-old grandmother who lives in Victoria. "I can't be there in Victoria for her, but I can be here for seniors like her," she says.
Karla has fond memories of helping out her grandparents when she was a kid in Trail, BC. She remembers gardening and canning the carrots and potatoes with her grandfather. Life may have been hard for the older generation, but they helped pave the way for the people of her generation, she says. "We all have an obligation for seniors who live alone or may not have any family support." 
After a break-up last summer, Karla said she realised she had focussed on herself. "I felt like this was the time to give back," she says. "I think programs like Better At Home are something that you will be seeing more and more of in the future."
Better at BC started in Squamish in January last year after a six-month community engagement pointed at the need for such a program in Squamish, says program coordinator Jane Ballance.
Balance says the community engagement, which included interviews with seniors, found out that light housekeeping, transportation, and grocery shopping were the top needs for seniors in Squamish. Since its launch last year, Better at Home has helped 34 seniors so far and the response has been quite good, she says. Seniors don't feel socially isolated and they are able to meet their medical appointments in Squamish or in the city without asking for help from neighbors or friends or family, she says.