By Gagandeep Ghuman
Published: Jan. 28, 2012.
Bonnie Postlewaite was diagnosed with cancer in 2009 and that has meant frequent trips to Vancouver for medical checkups, for chemotherapy, and for radiation treatment. 
With no family in Squamish, she depended on her friends to periodically drive her to the city.
Last November, however, she faced a grim prospect of driving to the city alone every day for six weeks for radiation therapy.
She had almost decided to cancel her appointments when Pauline McNeney, a regular at the hair salon where  Bonnie works, stopped her from doing so.
McNeney told her about the local volunteers of the Canadian Cancer Society who take cancer patients to the city for hospital appointments.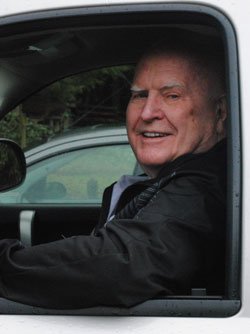 Bonnie Postlewaite was driven to the city, every day, free of charge by volunteer drivers like Don Wilson.
Wilson is one of the ten volunteers who drive cancer patients to their appointments in downtown Vancouver. A retired police officer and a lawyer, Wilson has been taking cancer patients to the city for the past ten years.
Much before the program was introduced formally by the Canadian Cancer Society in Squamish, Wilson had been taking his friends, Gordie Wilson and Ian Walker, to downtown Vancouver for cancer treatment. 
"I'm just driving people to the city, it's not that big a deal" he says, smiling.
But Bonnie Postlewaite says people like him are 'godsend.'
"Driving down to the city when you are not well can be extremely stressful," she says.
It was Lail Weeks who first contacted the Canadian Cancer Society in 2001, and helped organise the service in Squamish. 
The first few volunteers were Don Wilson, Terry Aldridge, and Bill McDonalds, but more people have joined over the years.
This fall, Grace Halvorson took over as the coordinator of the program.
Rick Brzezowski, Harvey Halvorson, Colleen Polowich, Marg Huber, Pauline McNeney, Mike Sherlock, and Karen Vanzella are some of the other volunteer drivers in Squamish.
"I wanted to do something for the community, and it is great to know the patients and to know courageous they are," says Terry Aldridge.
The society is always looking for volunteer drivers.
If you have a clear driver abstract, $3 million liability insurance, and are willing to take a driver seminar, you can volunteer as a driver.
"It's a great way to give back to the community," Grace Halvorson says.
She can be contacted at hghalv@shaw.ca.