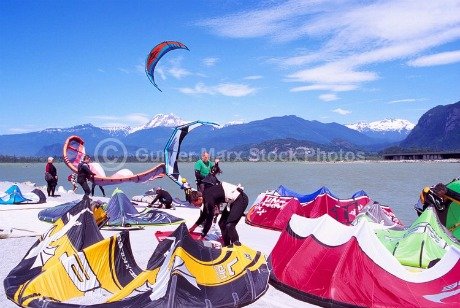 By Gagandeep Ghuman
Published: April.6, 2012
It was the first time Steve had come to Nexen beach to ride the famous Squamish winds on his kiteboard, but he didn't seem too happy about it.
"It looks easy, but launching from here isn't. You have to play a lot of little tricks," he said.
Even if he played those tricks, there was a chance he could break his line, or get his kite entangled with something, or in a worst case scenario,  get hurt by the strong onshore winds.
Yet, experienced kiteboarders like Steve are opting to come to Nexen Beach from the Spit to launch their kiteboards.
And more will follow kiteboarders, windsurfers, and spectator pack  the Spit during the busy summer season.
There can be as many as 300 kiteboarders, windsurfers, and speactators on busy weekends at the Spit.
It makes Jamie Martin fearful.
"We are becoming dangerously overcrowded over there at the Spit," says Martin, the vice-president of Squamish Windsport Society.
"There is just not enough space for everyone, it's hard to manage the kites, and people can get quite irritable. It can be a chaos."
That 'chaos,' however, can be a good thing for Squamish."
Ever since the sport of kiteboarding was 'invented' ten years ago, Squamish's popularity as a destination for the sport has quite literally soared.
Seeing the crowds swell, the Squamish Kiteboarding Society expanded the spit twice a few years ago, once with a grant of 50,000 from the district.
But even with that expansion, only five people can launch their kites from the spit at any given point. More experienced kiteboarders will go to the Nexen Beach, but others have no option but to wait.
Then, there's the other complication: Simply put, people who kiteboard and windsuf have money and they know other places where they can do this with better amenities.
"These are the same people who buy season passes at Whistler. Whistler has 20 cm of powder, but we have 20 knots of the best wind. I hear too much negative talk about the wind, but it could be one of our biggest assets as it is in other communities," Martin says.
One such town that is tapping into that asset is Port Alberni on Vancouver Island.
Port Alberni has made good use of its inlet to advertise the town as a destination for windsurfers. A few years ago, Jamie Martin got a call from one of councillors of Port Alberni, asking if he would be able to help them with a kite beach they were building.
"They are in a same situation, they are trying to make a transition from being an industrial town to being a tourist town. They too have a great spot for windsurfing and kite boarding and they are probably going to beat us with their facility," he says.
Martin says there is a temporary fix: Ceate a spit on the Nexen Beach. That would take some pressure off the spit, and bring people through our town.
"They would hang out at our coffee shops, restaurants and shops and hit the water when old faithful starts to blow. When all done they would end up back at our town on the way through," he said.
He's hoping that with the help of volunteers and he hopes to get the support of Tourism Squamish, and the district to do so.
And if the council or Tourism Squamish believes in the town's own brand, they will.