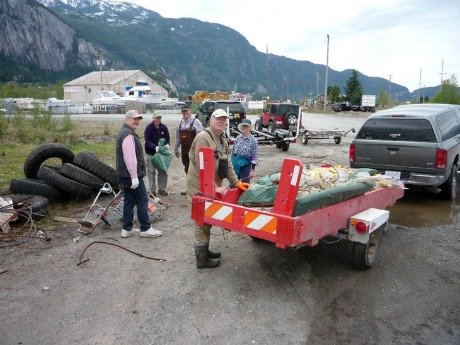 By Gagandeep Ghuman
Published: April 27, 2012
Sixteen cubic yards of garbage, eight grocery carts, several truck tires and 15 mattresses were just some of the waste items that volunteers collected to kick-start the Pitch-in week on Sunday, April. 22.
The volunteer effort was organised by Downtown Squamish BIA, Squamish Streamkeepers and Water Trail Action Group team.
Blind Channel waterfront between Winnipeg St and Cattermole Slough, Pemberton Avenue, Scott Crescent and Highway 99 intersection, the Cleveland Ave. entrance to downtown were some of the places the residents fanned out to collect waste.
Marnie Lett, Kelvin Mooney, Star Morris, Jack Cooley, Autumn Cramb, Derik Wells, Brian Davies, Jonn Matsen, Patrick McNamara, Doug Morrison, Brad Ray, Lyle Woods, Victor Drought, Scott Renyard, and Eric Andersen were those who took part in the initiative.
Another group of volunteers, led by Squamish Environment Society, collected waste from areas along the estuary, in partnership with Squamish Helping Hands.
A total 15 people collected about one-third of a large carney's bin including thrown out couches, old tires, bagged yard waste (that could have been composted) from a "community" dump site on the old Buckerfields site.
"We also cleaned up some unused squats from the Estuary. Pots and pans, tarps, plastic, clothing and loads of mics," said Meg Fellow.
Some other PITCH-IN Week Activities
Re-Use-It Fair: On Saturday April 28th, bring all your unwanted, usable items to Brennan Park from 9-3 p.m. Items such as furniture, appliances, toys, bikes and electronics can be dropped off and other residents' items may be taken away for free.
Meanwhile, the Fastest Picker Challenge was organised on Wednesday, April 25th at 3:20 p.m. at Howe Sound Secondary School, and the winner was the District of Squamish.
PITCH-IN Week Community Clean Up Days
Squamish residents and community groups also took part in the "pitch in" during Community Clean up Days by adopting a street or area they worked together to clean up.