By Gagandeep Ghuman
Published: May 29, 2012
A bear had to be destroyed in Squamish last week because of "careless home owners," according to a media release by the local conservation office.
The first bear of the season had to be destroyed because a home owner left their door wide open on two separate occasions, which allowed the bear to enter the home and get food.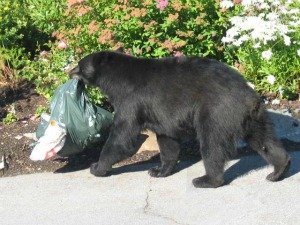 The potential food source changed the behaviour of the bear and created a risk for the public, said Sgt. Peter Busink.
"We are very disappointed that some Squamish residents still do not understand that their actions ultimately caused a bear to be destroyed," Busink said.  
Busink didn't specify the location or the neighbourhood where the bear had to be destroyed. 
Conservation officers also issued two dangerous wildlife protection orders to two local businesses for failing to secure bear attractants.  
A dangerous wildlife protection order is a lawful order to clean up or secure attractants by a specific date and time.  Failure to comply with a DWPO is $575 fine under the BC Wildlife Act.
Busink said he requests all residents to take responsibility and make sure that all attractants are secured.  
"The bears are out and they are hungry," he added.
People who do not secure their attractants could face a fine under the BC Provincial Wildlife Act, anywhere from $230 to $345.