By Gagandeep Ghuman
Published: June 2, 2012
Ian MacKay could have taken the beaten path:  High school, followed by college, then perhaps a cushy job.
But he didn't.
Instead, this 21-year-old Squamish man ventured on a more perilous journey, one where sickness, violence, rape and killings replace scenic commutes.
MacKay has travelled to Haiti thrice after the earthquake, and he returned last year on a month-long humanitarian trip from Congo, a country whose internecine conflicts have made it the rape capital of the world.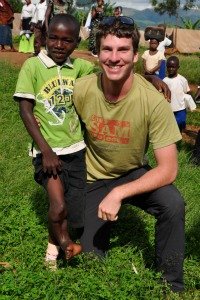 It's where MacKay wants to return.
"I have no happy stories to tell you from those places," MacKay says, sitting at a downtown Squamish restaurant.
But it's these same stories that take it him back to places like Haiti and Congo.
Like the story of Ntaboba, a 13-year-old MacKay met in South Kivu in eastern Congo.
Ntaboba's leg was destroyed in a land-mine accident, but he is committed to going to school.
"He's this kid that is always smiling and I'm inspired by him, MacKay said.
"It's for kids like Ntaboba that I want to go back to Congo."  
It was in Haiti that MacKay first met a Congolese doctor, Dr. Linda Mobula, who inspired him to go to Congo.
MacKay had heard about the atrocities committed by rebels and government forces, but it was in Eastern Congo saw and met ordinary people caught in between both sides.
In the one month time he had, he visited schools, helped in local hospitals,  and worked in textile workshops established by Action Kivu, an aid organization run by Tom Amani Mataboro.
MacKay is back in Canada to pursue nursing at Douglas College, but his mind is in Congo.
He also wants to start a school there.
MacKay has no grand reasons for going to countries like Haiti and Congo. Genes, however, provide a clue.
His mom, Sylvia MacKay, is a nurse and has done humanitarian work in Kenya. His uncle, a doctor, helped in Haiti after the earthquake. MacKay has served for the SAM Project in Zambia, which provided the spur for his humanitarian missions in Haiti, and Congo.
He will share the stories from Congo at the Eagle Eye Theatre on June. 1 at 7: 30 p.m. His purpose, he says, is to inspire youth in Squamish, and show them that they, too, can make a difference.
Just like he did.