Squamish Rock Climbing in Focus: Climb, Camera, Action!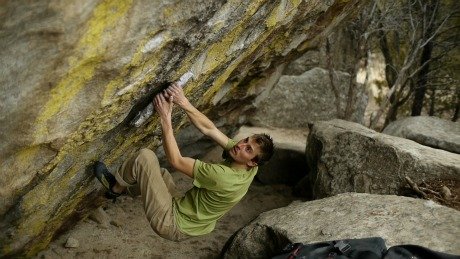 By Phillipa Gardiner
Published: June 16, 2012
Thanks to a wave of affordable high quality video equipment, a new generation of filmmakers are able to share their passion for action sports.
Alex Savage is the perfect example.  An avid climber for more than 10 years, he recently quit his corporate job as a financial analyst to pursue the sport full time.
His passion for climbing has led him to shoot Western Gold, a full length film featuring a type of rock climbing known as bouldering.
Unlike other forms of climbing, bouldering does not require ropes. Climbers tackle shorter, defined routes (known as problems) on individual boulders which can reach as tall as 30 feet. Crash pads and spotters protect them from falls.
'The biggest reason that I like bouldering so much is just the freedom that you have,' Savage said.
'You don't have to wear a harness, you're not tied into a rope  – it's just you and climbing shoes."
There is a lot of freedom to swing around and do very interesting movements, he added.
Western Gold was released though his company Savage Films in April this year.
It features bouldering sites along the West Coast of North America, which sets out to capture the lesser known areas.
Unlike other climbing movies which concentrate on the hardest problems Western Gold shows boulders of varying difficulty.
'I wanted to show the most beautiful boulders, regardless of the grade.'
Choice of climbers was also important for him. He didn want to bring in athletes into each of these areas.
"I wanted to go and spend some time in each area and meet the locals and feature them as much as possible," he said.
The resulting film is immensely enjoyable, even for a non-climber. The footage is beautiful and well chosen, capturing each boulder in the landscape as well as close up details of rock surfaces and handholds.
Carefully filmed action sequences highlight the intense physical and mental effort of the climbers.
The movie features numerous boulders around Squamish. Alex has high praise for local climbers, and the people that travel here to climb.
'The rock here is world class. It's really high quality, really strong. The most unique aspect of the climbing here is that it's very technical."
The lure of the mossy boulders beneath the Chief has proved too much for Alex – he is settling in Squamish for the season. No doubt he will have his cameras on hand to capture more action as summer progresses.