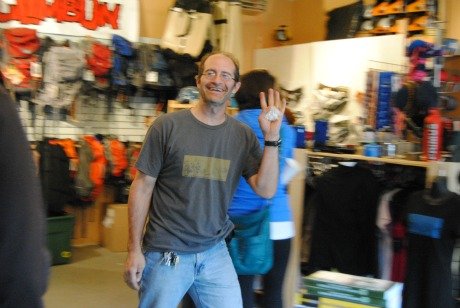 By Gagandeep Ghuman
Published: June 30, 2012
Tatiana Kostiak had never set foot inside the Climb On store on Second Ave before.
Jennifer Blair, too, passed it by and Kelly Kislasko, she didn't even know it was a retail store for climbing.
"Honestly, I thought it was a gym or something," she said, sounding a bit embarrassed.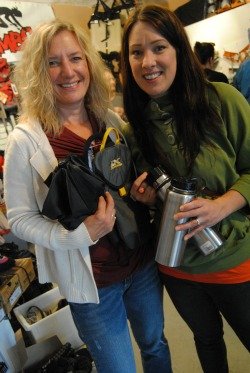 On Thursday evening, Squamish Cash Mob brought these three Squamish residents—and 15 others—to explore the nooks and crannies of Climb On store.
After gathering under the Rotary Club clock on Cleveland and Winnipeg, a small, but spirited group of Squamish residents walked towards the Climb On store for its first ever cash mob.
As they invaded the store, the hubbub grew, and people started discovering unexpected items (clothes, books on edible plants, and dried fruit), owner Dan Butler took in the scene approvingly.
It's not every day you see a mob victim smile so contently.
 "It's a great idea," Butler said with a gimlet sparkle in his eyes.
"It gives people a chance to see what we got here. It also gives them a chance to know the owner personally," he said.
Most of all, it gave people the chance to support the town's local economy, one that has gone through a painful contraction in the past few years.
At least three people interviewed said they owned small businesses, and the idea of a cash mob supporting local businesses resonated with them.
Tara Franz bought a climbing guide for her friend. The book cost a little more than $30, but the transaction was symbolic.
"Supporting a local business means you are supporting a local family," she said.
As someone who runs a small business, the cash mob idea appealed to Tatiana Kostiak.
"This is kind of a no-brainer, we have to support our local businesses," she said.
The scene—people buying , mixing socially—was a potent illustration of 'Buy Local-Shop Local', a clichéd slogan given a new life in Squamish by Eric Armour, the owner of Trinity Romance Shop.
The community owes a Big Thank You to this downtown merchant who cloned the idea, and created enough buzz to make the first cash mob successful.     
Armour said the 5 p.m. timing of the cash mob might have been an obstacle for some people who commute to town from Vancouver.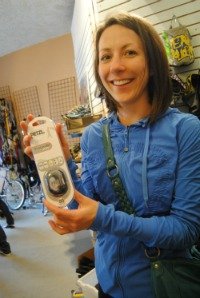 The timing for the next cash mob, the last Thursday of July, might be pushed to six to accommodate more people.
"I think Cash mob will gain momentum and grow in Squamish," Armour said.
By the time cash mob left, each member seemed to have completed all three requirements: Spend more than $20, meet new people, and have lots of fun.   
Store owners met some new people, and had fun, and he is already keeping aside $20 for the next cash mob.
"I want to be part of the next one, it was like a party in here," he said.