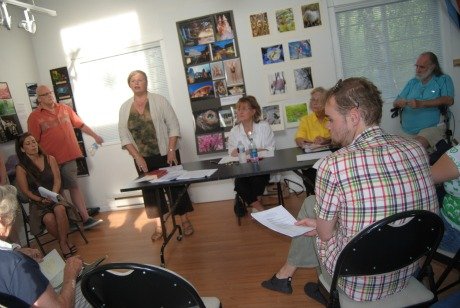 By Gagandeep Ghuman
Published: July 14, 2012
An arts council director who had recently resigned from the Squamish Arts Council was back on the board in a packed, rancorous, and in the end, a cathartic AGM held in the arts council building on Wednesday, July 11.  
Stan Matychuk was one of the 13 members who were acclaimed directors of a new SAC board.
Freida Hoff, Andrea Hoff, Toby Jaxon, Doreen Ramus, Martin Thorne, Breanna Wilson, Jan Durocher, Zoe Evamy, Linda Bachman, Lilani Beckett, Martin Vseticka, and Krisztina Egyed were nominated to the SAC board by 60 new and old members.
Zoe Evamy and Linda Bachman were  two members who had resigned few years ago, but were acclaimed directors on this new board.
This was no ordinary AGM.
Names were named here, loyalties were tested, and old divisions were opened anew.
By the end of it all, however, it seemed, a closure had been reached.
The beginning, however, brought the rift among the arts group in sharp focus.
Rebellion and defiance were in the air, and so were demands for openness, transparency, and accountability.
Demands for a clean slate was made even before the election went underway, yet another proof of how riven the arts council had become in the past few years.
The nomination was more than just that—it was a show of strength by those who felt the board—and the chair—needed to be more transparent and accountable to the members.
That rallying cry led to some new starts.
The members passed a motion that would require all meeting minutes, budget meetings to be posted on the website.
The members also passed a motion to strike an independent committee to do a bylaw review within the next four months.
Stan Matychuk said he was very impressed by everyone in the room.
"There was an obvious rift in the arts community that was present in that room," he said.
"Given that there are ten new directors there is going to be a large amount of change and an equal, if not a larger amount of work to do," he added. 
A former director, John Jervis, said it was a very productive night and a great display of how much people care about the way arts community is represented.
Kirstin Clausen said Egyed listened patiently to people who were clearly upset, and hopes that it will mark a turn for everyone involved.
As the Reporter tried to get Egyed to comment, Rick Toews, an arts council member called for clarifications on questions posed to Egyed by the Reporter.
He first spoke as a member of the arts council, but then after a roar of laughter, he morphed into a lawyer.
"I'm calling you as a lawyer here," he said ominously, and then let out another burst of laughter.
"You have to be very careful about hurting this woman's reputation in a way that is unfounded."
Since Thursday, the Reporter has tried numerous times to get Egyed to comment on the entire controversy surrounding the arts council.
She said she would get back with an official statment by email.
She never did.